Champions League is glocal
Seems like only yesterday that Cindric experienced that moment of anoesis in the final seconds of the game against Barcelona and Cupic repaid the faith shown in him with a winning goal that was a dagger to the heart of all PSG fans. And even in those few months that have passed things have moved on. In the immortal words of "The Byrds"
"To everything, turn, turn, turn"


We've all eaten "alfresco", although rarely on this Atlantic rock. I like my vegetables and spaghetti "al dente", but lately I've taken to eating "al desko". It's a real word, believe me, and with all the changes in my life lately, I find I don't have the time to separate eating and working, hence "al desko".
Because everything changes. With each passing year we see subtle little changes, but don't see the overall effect until perhaps we see an old photograph and suddenly we realise that the change has been immense.

You're probably wondering where I'm going with this. Well with any major anniversary we look back. We reminisce, we cogitate, we summarise. We debate so many things. Have the changes been for the better or worse? Have things improved?

There is no greater area for reminiscing than sport. Could the great football teams of the 70s compete in todays competitions. Could the great athletes of yesteryear compete with those of today. Could the great handball players of the past lock horns on a level with the current crop? Could the coddled sports people of today cut it in the hard nosed world of sport back then.

I have this impression that sports was better when I was younger. It's the rose tinted glasses syndrome I suppose. It was the absolute fantasy that one day I could grow up to be a footballer, an athlete and an Olympic champion, all at the same time. I guess that the absence of sports every day on the television made the event even more special, but it was also the innocence of the time.

The EHF Champions League, as a format, celebrates its 25th anniversary this season and just in case you're wondering, there was a European competition before that. It was the old knockout system over two legs leading to a final also played home and away. It was a time when you had to be a champion of your league to get there.
Back then eight matches got you to a final, now that wouldn't even be the end of the group phase. Have a look back at the teams that competed back then and you'll be amazed at how the landscape of handball has changed.

Of course the EHF itself was founded two years previously when the paladin, Michael Wiederer, and a number of like minded handball people set up in Vienna. A dream at the time to build a federation, to see whether the seed of an idea could fructify. Of course he and they needed to know all about the seed, but they also had to be acquainted with the ground in which it was destined to bear fruit.

The Champions league as we know it began in the season 93/94, two years later. It may surprise you to know that a team from Portugal (ABC Braga) contested that first final. 5,000 spectators over two legs watched the matches and two Swiss referees adjudicated the second leg. How times have changed.
Back then it was normal to see the lines of basketball and volleyball on a court, along with so many other lines. Jerseys were looser and shorts were higher and tighter. A certain Dujshebaev contested that first final and even he had a full head of hair. He won by the way with his team TEKA Santander.

It was such a civilised game back then. I remember myself actually having time to celebrate a goal. To trot back at a casual pace high-fiving all and sundry. It was slower but still high on skill. Seems to me people knew what an attacker foul was and there was no passive play.
I have to be honest and say that although I was a big handball fan back then also, all of this European handball competition went over my head. I was lucky in 1994 if I could get my hands on a VHS of an Olympic game from 1984 to watch. And don't get me started on the pig bladders we used to call a ball that weighed about 10kg.

This wasn't the time of blanket TV coverage, of mobile phones, of iPads or even of the internet. How handball has changed.

Fast forward 25 years and we have a most amazing handball platform in ehfTV. The images are no longer grainy, but HD. Cameras film every conceivable angle of the court. Every decision and every action is replayed in such stunning slow motion that the technique and skill of the game is shown in all its glory.
Nowadays 20,000 people watch a final and it has become a major international event. I have no doubt that those athletes from back then could still compete today, the difference is the way the product is now served to us the fan.

It has truly become a global sport. But what is most amazing about handball is that it is more than that.

Handball is "Glocal"

It is the interconnection of global and local. The players and clubs are still so firmly established in the community. They are superstars but they retain that modesty and personal touch that is sadly lacking in so many other sports.

I arrived on the scene for the final of Kiel and Ciudad Real in 2009. So in a way I am celebrating a little anniversary. This will be my 10th season involved in handball on the European stage. And it is strange to look back on those early games. I haven't noticed the changes as I have gone along, but when I look back, even in those ten years, I am amazed at the product that handball has become.
Even stranger is that in those ten years Ciudad Real as a power has waned, but if you go back 25 years Kiel, or Flensburg or RNL weren't the German powerhouses. Back then it was SG Wallau-Massenheim. Led by Heiner Brand in those early nineties they dominated German handball for a few years. It's incredible how things change.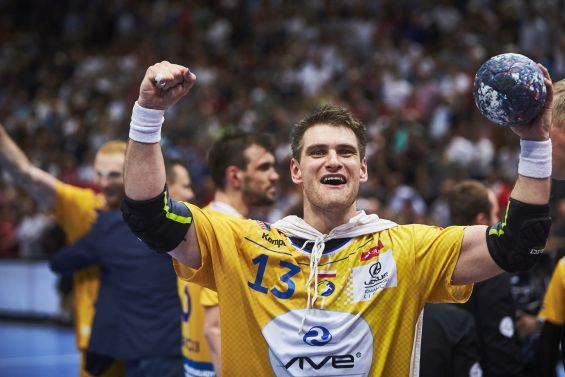 Everyone will have their highlights from all those years and if you'll forgive me I would like to share a few of mine. My first ever game in the Sparkassen. My first ever FINAL4 when I suddenly realised how big handball could truly be. My first handball match in a football stadium when Copenhagen beat Barcelona. I was freezing all night, but the experience was unforgettable. And the three comebacks. Flensburg to beat Barcelona (2014), Kielce to beat Veszprem (2016) and my favourite of all time, the comeback by Füchse Berlin to overcome Ademar Leon (quarter-final, 2nd leg 2012).

There will be plenty of time to discuss the groups and the possibilities and the outcomes another time, but let me leave you with this thought.

I would normally leave numbers to the great "Panzer" Björn Pazen, but 25 is a mystical number. It is the sum of the first 5 odd numbers. 1+3+5+7+9=25. Its own two digits 5 exponent 2 = 25 and 252 =625. I have a feeling this could be another magical season.

Of course the 25th anniversary is the silver anniversary, but that won't stop all the big guns going for gold.
Author: ehfTV commentator Tom O'Brannagain