Heartbreak for FCM as Krim secure last-minute draw
After falling behind by four in the first 15 minutes, FC Midtjylland managed to turn the Women's EHF Champions League game against RK Krim Mercator on its head, but ultimately failed to take the two points – and saw their winless streak reach six consecutive games.

It was the second straight draw for the Danish side, whose chances to proceed are looking slimmer, as they are last in the group, one point behind Krim and NFH.
"I'm not quite satisfied because we had the chance to take both points. It is about the marginal moments at crucial times, but we got a draw and are still in the game for the quarter-final," said FCM coach Kristian Kristensen.

• Mie Augustesen and Elisabeth Omoregie top score Sunday's clash, with seven goals each
• Midtjylland will face CSM next week, and meet NFH for a do-or-die clash in the last round
• Krim have the toughest schedule to finish the main round, as they host Rostov in Round 5 and end the phase with a trip to Györ

GROUP 1
FC Midtjylland (DEN) vs RK Krim Mercator (SLO) 24:24 (12:13)

After NFH lost against Rostov on Saturday, there was a lot riding on the result of the game between FCM and Krim, as both sides were looking to overtake the Danish team in the last of the group's qualifying places.

It was Krim who enjoyed a brighter start to the game, taking a commanding 8:4 lead thanks to goals from left back Omoregie and line player Olga Perederiy.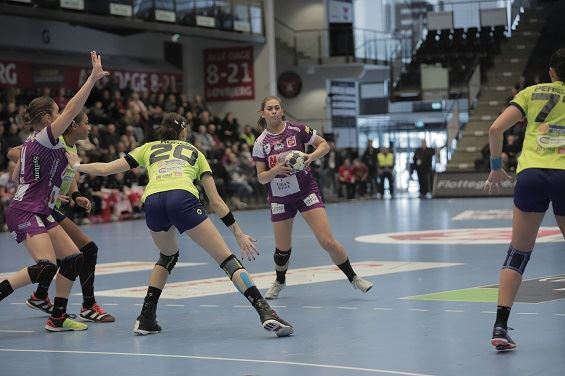 A 3:0 run, off three consecutive penalties scored by 21-year-old Norwegian playmaker Helene Gigstad Fauske, helped FCM come back into the game. The Danish side weathered the storm and reduced the gap, leaving Krim to take a narrow 13:12 lead into the half-time break.

Deadlock unbroken in the second half

Despite recording a higher efficiency in attack than their opponents, FCM were hampered by their own turnovers in the first half. When the match resumed, the Danish side had the same troubles and Krim opened another three-goal gap, 17:14, after 36 minutes.

Following a silent first 40 minutes, left back Veronica Kristiansen started to find her stride and was dominant in a 7:2 partial that saw the hosts take the lead for the first time, 21:19, with 10 minutes to go.

But the hosts could not keep Krim at bay. The Slovenian side clawed their way back to end the game with a 4:2 partial, and Ines Amon scored the last goal in the final minute, equalising the match.

NFH and Krim are now level with five points in fourth place, while FCM are with four.
Author: Adrian Costeiu / cg