A Japanese winger who found a home in Denmark
A Japanese player in a Danish handball team is not exactly as daily sight, but as the new Danish champions, NFH Nykøbing Falster Håndboldklub signed Ayaka Ikehara before this season this unusual combination became reality.

However, the Danish debutants in the Women's EHF Champions League had no doubt that the 27-year-old Japanese international was the right choice for them.

"We were in need of a right wing after both our right wings from last season left the club.

"After some talks with Japan's Danish coach Ulrik Kirkely, and after watching Ayaka at a training session with the Japanese national team in Odense, I felt that she was the one we wanted," explains NFH coach Jakob Larsen.

Ayaka Ikehara also had no doubts about beginning a Danish handball adventure.

"European handball - including Danish handball - has a very high level.

"I wanted to raise my own handball level, so playing at this high level (in Denmark) was what I wanted," says Ayaka Ikehara who has had no reason to regret moving from Japan to Denmark yet.

"First of all, handball is a minor sport in Japan.

"In Denmark, handball is thriving; the audiences and the excitement are amazing.

"This way, playing handball in Denmark is highly motivating and a lot of fun to play.

"Unlike in Japan, players here gather from various countries, and that is interesting, because they have difference styles of playing," she finds.


Easily integrated

Changing between such different cultures and mentalities like Japan and Denmark would be a challenge for most people, but this process has been surprisingly easy for Ikehara who obviously functions very well on court – which is a result of the fact that she also feels well off the court.

"I cannot speak Danish or English, but the director, coach, staff teammates and everyone around the team support me very well.

"I cannot speak the language well, but I can contribute by playing. I would like to achieve results," says Ayaka Ikehara who has already provided some fine performances for her new club, in the Women's EHF Champions League (scoring 14 so far) as well as in the Danish league.

According to the head coach, the club, as well as Ikehara´s new teammates, have also done a lot to help her integrate into the team.

"All our players are good at including her in their conversations, and even though she speak neither Danish nor English, she is very keen on learning, and she has definitely made a positive impact," says Jakob Larsen.

"When we have our weekly hotel stay between training on Mondays and Tuesdays, we always let her share room with different teammates in order for her to get integrated with them all.

"At the beginning, she lived in Nykøbing, but as she was only player in the team who actually lived there, we have moved her to Copenhagen, where she is closer to the rest of the players.

"The benefit of living there is she can also meet up with some other Japanese people, as it is still important for her to be able to speak her own language every now and then," he explains.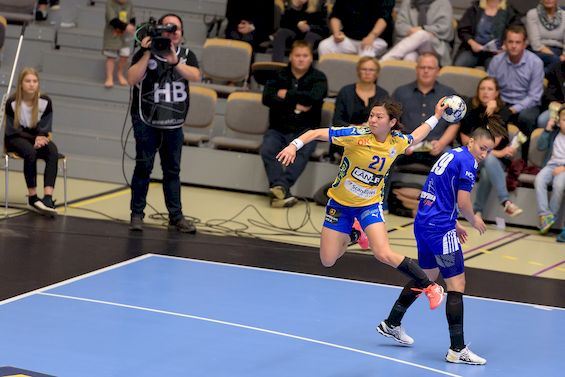 Playing against the superstars

Ayaka Ikehara makes no secret of the fact that the chance to play in the Champions League was one of the magnets that drew her to Nykøbing.

"I was watching the Champions League games on TV in Japan, and now I am playing in the best league in the world myself.

"I am really happy to be playing against the superstars of the world.

"Of course, as a team we are new to the Champions League, and that's difficult, but I think that we can all release our personal potential and aim high," says Ikehara who realises that her chance to improve further as a handball player lies in Europe.

"As a Japanese player, I would like to go on playing overseas in order to improve my level and be able to compare myself to the world stars," she finishes.
Author: Peter Brunn / bc