Clear win against NFH brings Györ closer to first place
Györi Audi ETO KC look like the team to beat in the Women's EHF Champions League at the moment, as the Hungarian powerhouse earned their fourth win in a row with a flawless performance against NFH – Nykøbing Falster Håndboldclub on Saturday afternoon.

The title holders are now only one win away from topping the group, and will face RK Krim Mercator in the final round. After they lost to Rostov-Don on Saturday night, the Slovenian side remain in a three-way fight for the last quarter-final berth. They are level with NFH and have one point more than FCM, with the all-Danish derby next week looking to be decisive.

Rostov-Don will enter the last main round match with the chance to finish first after collecting another two points with the decisive win against Krim, but could also finish third if they lose against CSM Bucuresti next Saturday. The Russian team are one of the in-form sides right now, winning four games and drawing one in the main round.

• Dutch centre back Nycke Groot plays an outstanding match for Györ, scoring seven times
• Swedish back Johanna Westberg is once again NFH's top scorer, with seven goals
• Left wing Siraba Dembele top scores for Rostov, with seven goals, while Krim's youngster Tjasa Stanko impresses with six – the best performance from the Slovenian side
• Györ cannot finish lower than second in the group, irrespective of the results in the last five games
• Rostov-Don are in second place in the group – one point behind leaders Györ and two points ahead of CSM, who are still to play on Sunday

GROUP 1
NFH – Nykøbing Falster Håndboldclub (DEN) vs Györi Audi ETO KC (HUN) 24:32 (10:17)

A straightforward win against CSM Bucuresti on Monday, 28:24, saw Györ become the top candidate to win the group, as the Hungarian side relied only on themselves to record wins against NFH and Krim in the last two rounds, which would secure first place.

With everything to play for, in their three-way tussle with Krim and FCM, NFH enjoyed a bright start to Saturday's game, leading 3:1, as they hoped to emulate their impressive home win against CSM in the group phase. But a quick 4:0 run from Györ, who beefed up their defence and even scored two unanswered goals while undermanned, quickly showed the visitors' strength.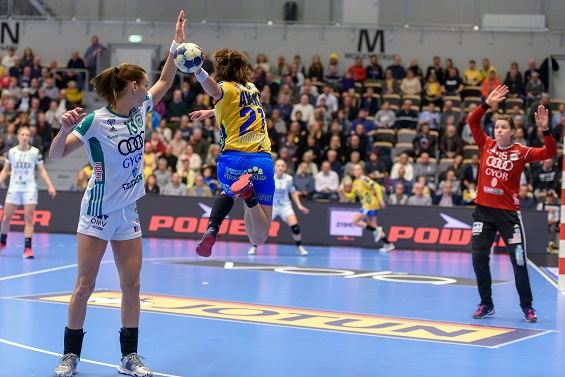 NFH tried everything to keep the pace, but the Danish side could only rely on Johanna Westberg, as the Swedish back scored five times in the first half for the hosts. It was not enough, as NFH were clearly lacking in defence. Györ took advantage, scoring via fast breaks, and playmaker Nycke Groot topped the scoring sheet with six goals in the first half.
"We knew that we had to win here to finish first in the group, and we needed to play very well in all parts of the game. It's impossible to relax against Nykøbing, because they play very fast. But I think we got it, and I am satisfied to get two points here in Arena Naestved," said Györ coach Ambros Martin.

No sweat for Györ

Even at half-time, the game looked decided, as the guests powered to a 17:10 lead that proved to be unassailable. As Györ had lost Nora Mørk to an injury in the home game against NFH, coach Martin started to rotate his players in the second half.

Yet there was no stopping the Hungarian side, who continued to plough through to another impressive win, 32:24.

Györ are now sure of placing first in the group at the end of this round and could clinch first place next week with a win against Krim. On the other hand, NFH will be sure of their maiden quarter-final berth if they defeat FCM.

RK Krim Mercator (SLO) vs Rostov-Don (RUS) 26:35 (12:21)

There was no room for error for Rostov against Krim, as the Russian side were gunning for one of the top two places in the group, with the do-or-die game against CSM Bucuresti looming in the last round.

Therefore, it was surprising to see Rostov playing catch-up with Krim in the first 10 minutes, before a 3:0 run spurred by the Siraba Dembele-Alexandrina Barbosa connection saw the Russian side take a 6:4 lead.

While Krim tried desperately to manage the deficit, it was a 6:0 partial between the 20th and 25th minutes that saw Rostov clinch the win, as the Russian side created a clear 18:10 advantage.

No chance for Krim

There was no coming back for Krim, who saw a 13-goal deficit against them after 35 minutes, while Rostov jumped to an incontestable 25:13 lead.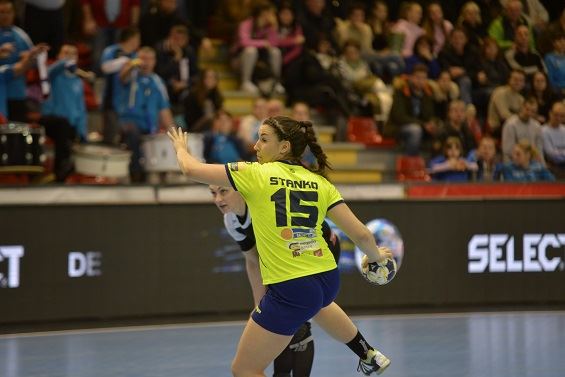 As the visitors had their share of changes in the line-up, Krim never managed to make their way back into the game. Barbosa, Dembele and Ana Paula Rodrigues ran riot, leading Rostov to a 30:21 advantage with 10 minutes to go.

The nine-goal difference remained until the end of the game, with Rostov jumping to a 35:26 win – the highest number of goals scored by the Russian team in a Women's EHF Champions League match this season.
Author: Adrian Costeiu / cg