Comfortable win sees Rostov pile on the pressure
Rostov-Don did their part and enjoyed their most decisive win of the season when they opened Saturday's Women's EHF Champions League action at home against RK Krim Mercator. The Russian side are now waiting for CSM and Györ to make some mistakes, in order to take one of the top two places in Group 1.
"I'm happy – we controlled the game, showed a good performance in defence, our goalkeeper played very well. We were nervous at the beginning, but then everything was OK," said Rostov coach Fred Bougeant.

• Siraba Dembele top scores for Rostov, with eight goals
• Krim remain fifth in the group rankings with four points – the same number as NFH
• Rostov will play against CSM in the third main round clash, while Krim will host Györ

GROUP 1
Rostov-Don (RUS) vs RK Krim Mercator (SLO) 29:22 (13:10)

It took Krim more than eight minutes to score their first goal, before Elizabeth Omoregie's strike spurred a 3:0 partial in just 90 seconds that pulled the Slovenian team in front, 3:2.

But Rostov's defence, the second most effective in the competition after the first seven games, woke up and started forcing turnovers, leading the Russian side to respond with their own 3:0 partial.

Rostov opened an impressive 12:6 lead on the back of another 6:1 run, thanks to goals from their impressive back line and a flurry of calmly converted fast breaks from Iuliia Managarova.

Though Krim reduced the gap to only three-goals at half-time, their lack of experience was punished by Rostov in the second period.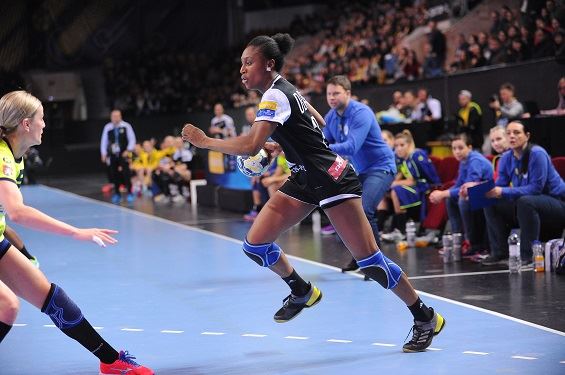 With right back Anna Vyakhireva and left wing Siraba Dembele in particularly good form, Rostov never looked back, opening an unassailable 22:15 lead with 15 minutes to go.
"Our opponents played a good game. We also played well. We were fighting till the end, but we did not score in many important moments," said Krim line player Olga Perederiy. "Thanks to the local fans. It's almost my home city, as I was playing in Rostov for several years. It's a big pleasure to play here."

The 29:22 victory was Rostov's third consecutive win in the Women's EHF Champions League, as the Russian side drew level with CSM and Györ on eight points – though the latter two sides have one game in hand.
Author: Adrian Costeiu / cg