Metz overcome shaky start to defeat Norwegian debutants
Making their first appearance in the Women's EHF Champions League, Vipers got the better start, but ultimately had no chance against a strong Metz team who won 30:22.
Metz only scored once in the first 10 minutes
Anna Gros led the scoring for Metz with six goals
Kari Brattset and Malin Aune scored five each for Vipers
GROUP D
Metz Handball (FRA) vs Vipers Kristiansand (NOR) 30:22 (14:12)
Metz managed to overcome a shaky start to virtually outrun and outplay Vipers who were playing their first-ever Champions League group match.
Vipers got the better start and were leading 4:1 after 10 minutes. However it did not take Metz long to catch up, with Manon Houette's second goal putting the hosts on level pegging at 7:7 after 16 minutes.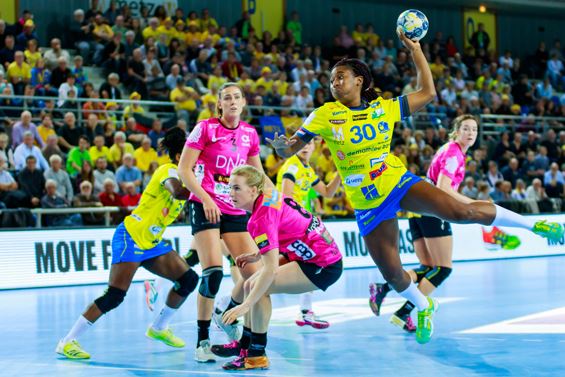 In the absence of pregnant goalkeeper Laura Glauser, Milena Rajcic carries a lot of responsibility in the Metz goal, but the Montenegrin shot stopper lived up to this responsibility in style. Her saves meant Vipers were only able to score once during the first 12 minutes of the second half.
Metz made use of this to increase their two-goal lead from half time to 21:13 less than halfway through the second half, and Vipers never managed to come back into the game.
The closest they got was four goals down at 22:18, before Metz consolidated their lead again.
Right back Anna Gros scored six goals for Metz, while line player Kari Brattset and right wing Malin Aune scored five each for Vipers.
The game concluded with a rapid run of four goals for Metz, two each from left back Orlane Kanor and centre back Meline Nocandy, to give the home side their eight-goal win.
Author: Peter Bruun/jh