CSM steamroller debutants Krim
It was no secret that CSM Bucuresti are one of the big favorites to win the Women's EHF Champions League this season, but even the Romanian side did not expect such a good start to their European season.
Elsewhere in Group A, it was a dream start for NFH on their home court as the Danish side eventually overpowered their Polish counterparts.
Neagu's comeback to Bucharest was a flawless one. She scored eight times and assisted seven
Laerke Pedersen and Johanna Westberg top scored for NFH, with six goals apiece
The Danish champions will travel to Ljubljana next round, while CSM host Gdynia
GROUP A
CSM Bucuresti (ROU) vs RK Krim Mercator (SLO) 30:18 (15:7)

The 2:0 early lead took by Krim was the only time the Slovenian side managed to stay near the Romanian powerhouse.
Gulldén and Neagu are the perfect handball combo!
Exquisite in-flight goal from @csm_bucharest in their 30:18 #ehfcl win over Krim. pic.twitter.com/HHNb1cuPMI

— EHF Champions League (@ehfcl) October 7, 2017
When CSM finally broke the Slovenian aggresive 3+3 defence, there was no way back for Krim. A mix of lethal counter attacks, Neagu's powerful shots and great saves from Paula Ungureanu brought the Romanian side to a 10:4 lead.

A plethora of no-look passes and spectacular goals followed, with the Romanian side managing to keep Krim in check - it was 15:7 at half time.

With changes in the team, CSM continued to dominate as the gap grew stronger. There was no antidote from Krim for CSM's fast ball circulation, with the game ending in a 30:18 rout.

Cristina Neagu speaks about her return to club handball in Romania and a near-perfect #ehfcl debut with @csm_bucharest on Saturday. pic.twitter.com/HbbBW1qtKx

— EHF Champions League (@ehfcl) October 8, 2017
NFH-Nykobing Falster Handboldklub (DEN) vs Vistal Gdynia (POL) 27:21 (14:10)

An active side in the transfer market, NFH were eyeing their first ever win in the Women's EHF Champions League against Gdynia.

However, their path to success was not an easy one, with the Polish side clinging to the hosts in the first half.

With backs Martyna Boryslawska and Aleksandra Zych in fine form, Gdynia managed to take the lead after 20 minutes, but a 3:0 partial from NFH saw the game turning on its head, as the Danish side jumped to a 14:10 lead at half time.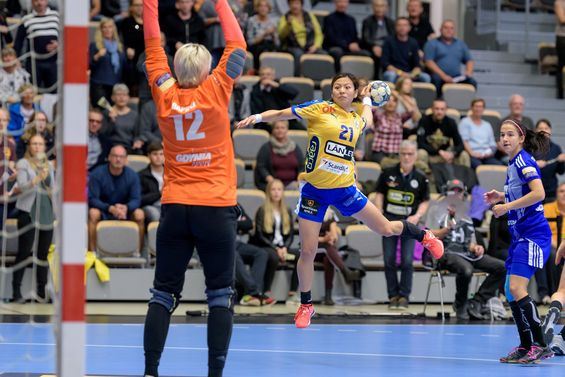 A 60% shot efficency propelled the Danish side to an easy win, as their free-flowing attack could not be stopped by the Polish side.

NFH earned a 27:21 win before heading to Slovenia, as they play Krim next, and Gdynia host CSM.
"We run very good today, and we played a diffrent kind of defence from what we normally do, because they have some good shooters in the team so we had to go higher in our defence than we usually do," said NFH head coach Jakob Larsen.

Vistal Gdynia coach Agnieszka Truszynska was not happy with her team's peformance. "We shot at a low level today and it was stressful for us."
Author: Adrian Costeiu / ap