VELUX EHF FINAL4: Remaining tickets to be released 3 May
Handball fans looking to travel to Cologne for the VELUX EHF FINAL4 (26/27 May 2018) have one last chance to secure their place in the LANXESS arena to follow Europe's top clubs as they battle it out for the VELUX EHF Champions League title.
Montpellier HB (FRA), HC Vardar (MKD), Paris Saint-Germain Handball (FRA) and HBC Nantes (FRA) have all qualified to play in the event on 26/27 May 2018 in Cologne's LANXESS arena.
The remaining tickets from the allocation reserved for the four participating clubs will be made available from 10:00 hrs on Thursday, 3 May 2018 in the official VELUX EHF FINAL4 ticket shop.
Seats for the four teams are located in the four corners of the arena as shown below: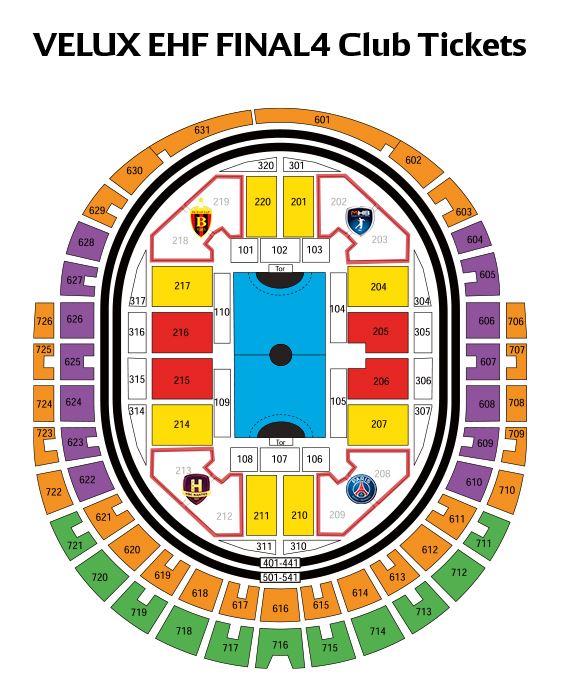 Tickets are priced at €297 each and include all four matches on 26/28 May 2018. This is the last batch of tickets to be released ahead of the event.
Tickets, travel and hotel options for French fans
Handball fans in France can also purchase tickets and additional travel and accommodation options via the official travel and ticket partner:
Hemispheres Voyages
www.hemispheres-voyages.fr
+ 33 4 38 37 22 22

VELUX EHF FINAL4 offers: https://www.hemispheres-voyages.fr/handball-velux-final-4-2018-matchs-final-4-velux-ehf-final-4-cologne-2018
Author: EHF / ew