MOTW: Skjern are confident to hand PSG first defeat
In Round 5 this weekend, the VELUX EHF Champions League Match of the Week moves to Denmark, and to an iconic arena for handball.

Skjern Handbold will welcome Paris Saint-Germain Handball in Herning's Jyske Bank Boxen, in front of more than 6,000 spectators on Sunday at 16:50 hrs local time (live on ehfTV.com).

While Skjern make their debut in the arena, it will not be the first time PSG play there, as Bjerringbro-Silkeborg received the French side there as well two years ago.

"It is going to be an amazing experience," says Skjern's Swedish centre back, Jesper Konradsson. "Some of the greatest games for a handball player are home games in the Champions League, as it is always a joy to play them. In Skjern the support from the fans is always fantastic, and this time we will play in front of an even bigger crowd. I am looking so much forward to that experience."

Skjern have already grabbed three points at home

Since a defeat against Kadetten Schaffhausen in October 2015, the Danish side has remained unbeaten on home court in the VELUX EHF Champions League. This season, they have already grabbed three points at home, following a win against Zaporozhye and a draw with Zagreb.

But for Konradsson and his teammates, the task will be much harder against group leaders PSG, which have bagged the maximum of eight points so far this season.

"We enter every game with an ambition to win it, and especially our home games," Konradsson says. "I think that the game against PSG is realistic for us to win, if we play a good game. Both last season and so far this season we didn't have any defeats in the Champions League on home court, and I believe that we can continue that."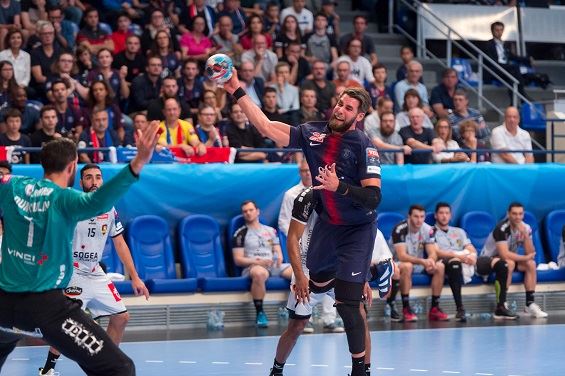 Numerous PSG players have fond memories of visiting Herning's arena. This is the venue where many of them won the EHF EURO 2014 as France beat Denmark 41:32 in the final. Goalkeeper Thierry Omeyer was one of them: "It is a really nice arena, with a very nice crowd, and the win there is of course a very good memory."

Omeyer also remember PGS's meeting with Bjerringbro-Silkeborg two years ago, calling it "a tough one, but we managed to win." PSG ultimately won that match 36:30, with nine goals by Nikola Karabatic.

"We hope we can turn things our way again this time," Omeyer says. "There are a lot of players I have played against many times, like Eggert or Myrhol. We know each other very well. They have got a lot of experience and that makes for a very dangerous team.

MOTW will celebrate International Day of the Girl Child
The Match of the Week will be a special occasion for another reason, too.

Like at all other Round 5 matches this weekend, the International Day of the Girl Child - initiated by the VELUX EHF Champions League charity partner, Plan International - will be celebrated at Skjern against PSG.

Mia, a 15-year-old handball player and volunteer with Skjern, will bring the official match ball onto the court before throw-off, and the Plan International centre circle will be pink this time.

The campaign draws worldwide attention to the fact that girls often do not have the same chances as boys, and that they are often prevented from exercising their rights. The VELUX EHF Champions League has been supporting children's development organisation Plan International since last season.
Author: Kevin Domas / ew