Djordjic: "I have made a step forward"
For Petar Djordjic, the next two games in the VELUX Champions League stand out from the entire group phase calendar. The Serbian left back, who is enjoying his debut season at Brest, is going to face Flensburg where he has had two spells, from 2010 to 2013 and 2015 to 2017.
On 11 November, the two Group B teams will play in Brest and once again on 19 November in Germany.
"Of course both matches are special for me. I played at Flensburg for five and a half seasons. I came there as a 19-year-old kid and had a good handball education at the club," Djordjic told ehfCL.com.
Brest currently take hold fourth place in Group B, just behind this weekend's opponents and Djordic hopes that his new team will manage to grab some points against the German powerhouse.
"We have a big chance, especially at home where we have already played a number of solid games this season. But in Flensburg, it will be very difficult - I know what I'm talking about as I spent many years there."
The Belarusian champions are coming off the back of hosting another German heavyweight Kiel, where they narrowly lost 25:24 in Match of the Week.
"It is small things that decide such games. Both teams played very well, but in the crucial moments, Kiel were slightly better or maybe had more luck," explained the Serbian.
First club experience outside Germany
Born in the Serbian town Sabac, the 27-year-old had been living in Germany since childhood. His father Zoran, once a renowned goalkeeper, played in the German Bundesliga for many years.
In the early days of his career, Petar even played together with his dad for HSG Wetzlar. Then he moved to Flensburg, and in 2013, signed a contract with HSV Hamburg.
Two years later, the Serbian international came back to Flensburg, yet in the past summer opted to move to Brest, leaving Germany for the first time in his club career.
"When I signed with Brest, everyone kept asking me if it was a step back. But I think that in my situation I made a step forward as I wanted to change something in my career. I knew I would get a chance in Brest. For me it's important to play in a good team, in the Champions League, and we prove our level on the court every week," claims Djordjic.
"Now we are fourth in the group and we want to keep going like this. Besides, we play in the SEHA-league and the Belarusian league, and our goal is to get the highest possible result in these competitions."
At the same time, Petar does not rule out another return to Flensburg at some point in his career: "Never say never. When I first left the team in 2013, journalists asked me the same question, and I thought it was impossible. But it turned out that I went back two years later. Sport is unpredictable, you know."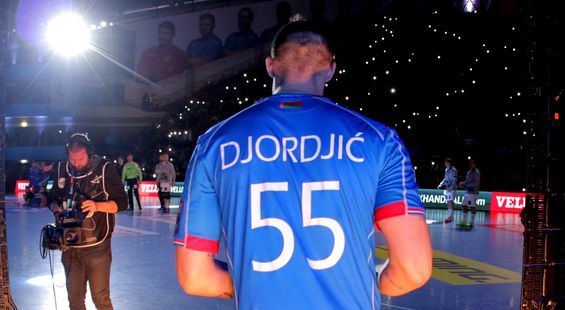 Reminders of home in Brest
However, now Djordjic feels very comfortable in Brest and does not think about moving somewhere else at the moment. Belarus reminds him of his home country: "When I first arrived, I thought to myself that Brest looked like a Serbian city.
"Streets, houses -- actually my brother noticed the same when he came to visit. Living in Germany, I always had some nostalgia for Serbia, so now I would like to stay in Brest for many years."
Yet Petar keeps a good contact with Flensburg: "My family still lives there. I spent five and a half seasons at Flensburg, so it was a big part of my career and my life. Obviously I still keep in touch with my ex-teammates, and actually I have many friends in the town, not just in handball."
Last season, Brest played against Flensburg in the VELUX Champions League Last 16 and the German side come out on top in a tight battle, 54:51 on aggregate. Djordjic had already signed a contract with the Belarusian side at that stage, so he knew he would be playing against future teammates.
"Both games were very close, and we were very lucky to get through. Hopefully now fortune will smile on my team again - this time on Brest," he concludes.
Author: Sergey Nikolaev / cor