Hosts and Höörs head to qualification final
Hosts Thüringer HC and competition debutants H 65 Höörs HK will duel for a ticket to the Women's EHF Champions League Group Matches on Sunday.
While the six-time German champions left behind their Spanish counterpart easily in Saturday's semi-final, Höörs took some time before ending the hopes of record champions Hypo Niederöstereich, who failed for the second straight time in the qualification.
The winner of this tournament will proceed to Group C to face Vardar, Larvik and FTC, while the three remaining teams will continue in the EHF Cup.
The former HC Leipzig trio of Lang, Hubinger and Mazzucco made their mark on THC's performance with a combined 13 goals, while Lydia Jakubisova led the team with six.
THC coach Herbert Müller, who is parallel coach of the Austrian national team, will not face the familiar faces of Hypo in the final.
Jonna Linnell made history by scoring the Swedish side's very first goal at this level.
After drawing level, 14:14, in the 34th minute, Hypo scored only five more goals.
Top Höör scorer was Emma Lindqvist with seven goals.
Thüringer HC (GER) vs Mecalia Atletico Guardes (ESP) 31:21 (13:9)
After THC new arrival Anne Hubinger scored the first goal of the Women's EHF Champions League's 25th anniversary season, her side never really looked back.
Atletico defended quite well in a movile and aggressive manner, but did not have the means in attack, netting only seven goals from open play before the break against strong goalkeeper Dinah Eckerle, and found themselves 13:9 down after 30 minutes.
With the support of "the red wall" in the stands among the 1,023 fans in Nordhausen, the German runners-up did not have any problems in leaving the team from Galicia behind. Even a two-minute suspension against coach Herbert Müller made little difference.
Thanks to a trio of strikes from new right wing Alexandra Mazzucco to make it 19:12 after just seven minutes of the second hald, THC felt safe enough to save power for the final by rotating their bench.
When Saskia Lang extended the lead to 21:12, the Spanish resistance appeared broken, except for the likes of former Bundesliga player Naiara Egozkue, who top scored with six goals.
Backed by the saves of Jana Krause and a brilliant defence, the hosts cruised in the finals stages – even extending their lead to 27:16, with efficient counter-attacks doing much of the damage.
"We made too many mistakes and the THC goalkeepers stood strong, thus the result was deserved," said Atletico coach Jose Prades Pons, while Müller was fully satisfied: "This was the first step towards the group matches. Our defence and goalkeepers worked wel, and in attack we were patient enough. But there is nothing to celebrate until we complete the second step."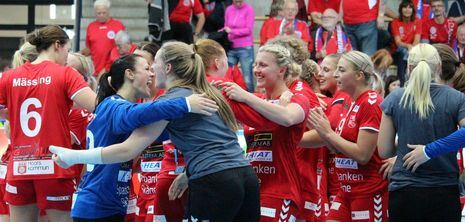 H 65 Höörs HK (SWE) vs Hypo Niederösterreich (AUT) 32:19 (14:12)
In their first EHF Champions League match, Höörs shocked the record champions with a brilliant start and an even better finish.
Thanks to a large amount of counter attack goals, the Swedish champions were 5:2 up before Hypo really settled into the match.
The 40-time Austrian champions enjoyed success from penalties, providing four of their first six goals, but despite drawing level at 6:6 and 12:12, Niederösterreich could not grab the lead as Höörs kept the advantage in their hands and took a well-deserved two-goal lead to the locker room.
Early in the second half, the Austrian side drew level before once again missing two great chances to take the lead – as Marina Topic failed twice from penalties.
Höör took the upper hand and went on an impressive 10:3 run, which left Hypo with too much to do in the final stages.
Hypo ran out of ideas, while the Swedish champions tore through their opponents with counter attacks and several strikes into the empty goal, allowing 11 players to get on the scoreboard and Emma Lindqvist to top score with seven.
"I am very satisfied. Tomorrow we expect a much tougher match against Thüringer HC, but we will try everything to make it," said Höörs coach Ola Mansson.
Author: Björn Pazen / cor