Thüringer HC grab group phase ticket
After two impressive performances on home court, Thüringer HC deservedly qualified for the group matches of the Women's EHF Champions League 2017/18.
25 hours after their 31:21 semi-final win against the Spanish champions Mecalia Atlético Guardés, THC won the final of Qualification Group 2 against Swedish champions H65 Höörs 33:24.
Earlier Sunday, Hypo Niederösterreich won the placement match against Atlético after a penalty shoot-out.
Thüringer HC will face Vardar, Larvik and FTC in Champions League Group C

Höörs and Hypo proceed to the third qualification round of the EHF Cup

Atlético will face Russian side Astrakhan in the second EHF Cup qualification round

Thüringer HC enter their seventh straight Champions League Group Matches now; for coach Herbert Müller it is the 10th Champions League season

After Denmark, France and Hungary, Germany is the fourth nation with two teams in the group matches after champions Bietigheim were seeded
GROUP 2 FINAL:
Thüringer HC (GER) vs H 65 Höörs HK (SWE) 33:24 (16:9)
They were briefly shaken early in the second half agaist Höörs but in the end they took a clear win. Boosted by more than 1500 fans, Thüringer HC marched on to the group matches.
"All my players showed an impressive weekend," THC coach Herbert Müller praised his side. "Despite the clear result – which I never expected – it was a tough fight for us. But thanks to a genius performance of Lydia Jakubisova and an extraordinary support from the stands we are looking forward to great Champions League matches now."
Thanks to a brilliant defence performance and a strong last 10 minutes before the break, Thüringer HC were ahead by seven goals at half-time. Höörs were only close at 6:5 after 19 minutes but a time-out by coach Müller guided the tournament hosts to victory.
The long-distance shots of new arrival Anne Hubinger and the wing goals of Jakubisova proved that the left-handed players of THC were on the right track, scoring eight of the 16 THC goals in the first half.
On the other hand, the Swedish champions were shocked early on by a severe knee injury of Anna Johansson.
Later, Höörs were hit hard by two evitable two-minutes suspensions, one in attack and one because of a wrong player change.
THC grabbed the chance of this two-woman advantage to extend the gap from 10:8 to 16:9 – and the fans on the stands went crazy. The 'red wall' of fans was dressed in today's Höörs colour, as the Germans played in white and black.
The Swedish team returned very early from the dressing room, nearly five minutes ahead of THC – eager to turn the match around after a short speech of their coach Ola Mansson.
With much more determination and efficiency in attack and a more movable defence, they clawed their way back into the match. With 14 minutes left on the clock, Höörs had nearly closed the gap (23:20).
But THC didn't fall and despite important saves from Höörs goalkeeper Gry Bergdahl, a treble strike of Aguilar, Huber and Jakubisova made it 31:24 to decide the match.
GROUP 2 PLACEMENT MATCH 3/4:
Mecalia Atlético Guardés (ESP) vs Hypo Niederösterreich (AUT) 27:29 (11:11, 24:24) after penalty shoot-out
By winning a thrilling placement match in a penalty shoot-out, Hypo avoided a trip to Astrakhan, while Atlético now face the strong Russian team in the second qualification round of the EHF Cup.
Hypo's opponent in the EHF Cup Qualification Round 3 has yet to be decided.
After clearly losing their semi-finals on Saturday, both teams fought hard for every centimetre in Nordhausen. The first half was like a rollercoaster ride: Hypo started in express mode and went 8:3 ahead in less than 10 minutes, only for the Spanish champions to turn the tide and even take a brief lead (11:10) before the teams changed sides levelled at 11:11.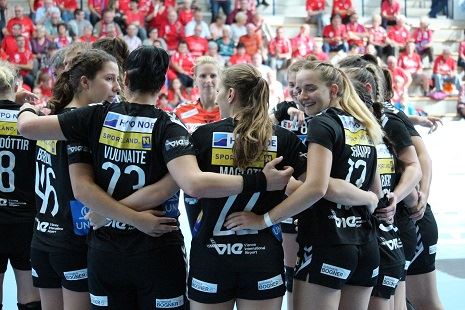 In the first 15 minutes after the break, the lead changed constantly – but when Hypo failed to score for eight minutes, Atlético forged ahead to 21:18 and 23:20.
Boosted by the saves of goalkeeper Olga Sanko, the Champions League record winners came back to level at 23:23.
After Atlético's team timeout 80 seconds from the end, Naiara Egozkue gave the team from Spain the lead (24:23) once more. But thanks to the buzzer-beating 24:24 of Hypo's new Icelandic player Hildigunnur Einarsdottir, a penalty shoot-out needed to decide.
By saving right the first shot, Sanko became Hypo's hero as her teammates all scored from the seven-metre line.
"We were already out three minutes before the end as we were down by three, so this was a truly incredible finish," said Hypo coach Martin Matuschkowitz. "It was our main motivation that we really, really, really did not want to travel to Astrakhan, and we managed to fulfil this goal."
Author: Björn Pazen / ew