PAOK win ticket for CL debut
It was a big day on Sunday for PAOK and for Greek handball in general. For the first time in the history the club based in Salonika, the team qualified for the Champions League.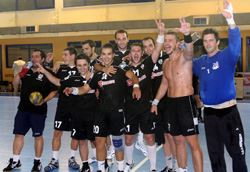 PAOK will be the fifth Greek team to take part at the most prestigious club competition. Before PAOK, Panellinios, Filippos Verias, Athinaikos and ASE Douka was part of the elite.
PAOK won Qualification Tournament Group 2. The Greek team have beaten SPE Strovolos from Cyprus by 32-29 and made a 30-30 draw with the Ukrainian Zaporozhye in front of 1,000 loud fans in the house of handball (Mikras 3) in Salonika.
The Greek champions had a favourable goal difference (more goals scored) over the Ukrainians because Zaporozhye won only by 26-23 against Strovolos.
The top scorer and best player of PAOK against the Ukrainians was Nikos Kokkonis with 8 goals. There was no dispute after the game that it was a fair result for PAOK. If the Greek team had less injuries (Apostolidis and Kominek didn't finish the game) they may have passed even easier to the next round
The coach of PAOK Stelios Seirekidis said:
"We played with a very good tactics. It's a big day for handball in Salonika and in Greece."
The coach of Zaporozhye, Vyacheslav Didushenko, said:
"Congratulations for PAOK! They played better and deserved to qualify. The fans of PAOK were part of the victory."
The captain of PAOK, Antonis Saoulidis, added:
"Greek people are very proud people. Before the game the Ukranians offended our pride and that helped us to play with more passion and with bigger determination"
PAOK will meet Montpellier, Pick Szeged, Chekhovskie Medvedi, Pavafersa Valladolid and Constanta in the Champions League.
Author: Konstantinos Chatzidimitriou