Rocas lays down a challenge for familiar foe Horvat
Zlatko Horvat and Albert Rocas have both enjoyed lengthy spells at the peak of world handball.
These two right wings still have a significant part to play in the VELUX EHF Champions League, even after more than a decade in the competition, and can be counted on by club and country in the decisive moments of any match.
On Saturday, Rocas and Horvat will come face to face in a crucial match in the race for the Last 16.
Third place PPD Zagreb find themselves one point ahead of their Spanish rivals and a win would guarantee them a place in the knockout phase, However, a loss for either side potentially leaves them in danger of being caught by Meshkov Brest, lurking in fifth place on six points.
"We have a big challenge is ahead of us, especially considering the fact that we were not able to get through the group phase in the last two seasons," admits Horvat.
"The match against La Rioja is a big chance for us to secure placement among the best in Europe. Some of our players have recently returned from Qatar after a bit of disappointment and sixth place but the team's rhythm is good and there is not much time to waste.
"I believe we've grown up as a team this season with coach Vujović and that we've learned that it is important for each player to give his best to get a good result, which is exactly what we're planning to do in a few days in Arena Zagreb," adds the 30-year-old Croatian.
Rocas is also looking on the positive side of the upcoming matches, while admitting that a strong finish to the group is far from a certainty: "Meshkov's losses in upcoming matches might secure us group's fourth position but we also know that a win in Zagreb will bring us closer towards third place.
"However, we are aware of the fact how hard it is going to be, especially with some of our important players like Thiagus Petrus, Javi Garcia, Ruben Garabaya and Juanin Garcia struggling with injuries."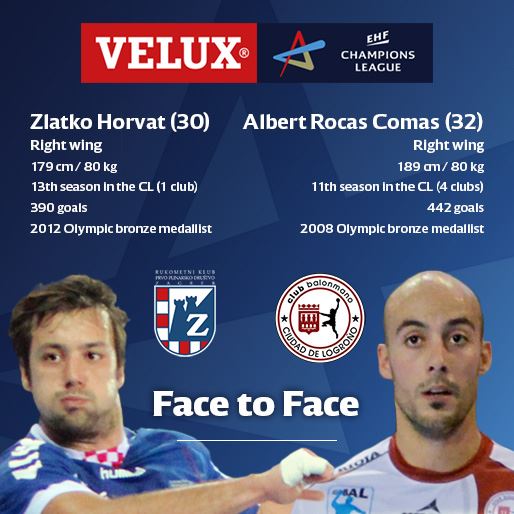 Modern handball styles collide
Although both Horvat and Rocas are aware of their team's quality, they share respect for the opposition.
"Zagreb are a young team with a lot of quality, always managing to find some new, good players and make them work as a team. The Croatian handball school is amazing, they never miss talents and always have great players on each position," says the 32-year-old who arrived at the club after one season abroad at KIF Kolding Kobenhavn.
"La Rioja is a well balanced team playing fast, modern handball. In each position they have great players capable of deciding the match. Good defence, fast transition, classic Spanish handball which has never been easy for us to follow in the past," admits Horvat, who did not score in the sides' meeting in Spain back in October.
The experienced internationals now have young families at home, but have yet to really begin thinking about what is to come after their playing days are over.
"Away from the playing court I can say I'm all about my family. My son Andrej is less than a year old; he is hard to catch – just like his father.
"To be honest I don't think that much, in fact I don't think at all, about what will happen after my playing career, because I really enjoy it. After all the injuries, ups and downs, I am really happy to be able to play on such a level.
"It feels great. I do not either wish to take myself away from Croatia. In Zagreb I've become who I am and trust me, I wouldn't change a thing," says one-club man Horvat, unlike his counterpart, who has played in European competition with four different clubs and clearly enjoys being on the road.
"The funny thing is that I sleep better when we're on road than when I'm at home, not because of the pressure, but because of my children.
"At home I have to wake up many times during the night when they cry. Besides them, I live a normal life, I like to hang out with my family and friends and I think of handball as of my hobby but as well as of my job, career and I have to say I am really grateful I can make a living playing it.
"I don't see myself as a coach after the end of my playing career, it is too hard and I don't think I would be able to handle it. You depend a lot on your players and get all the criticism, it is not easy."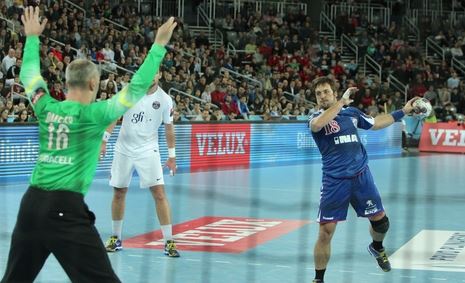 Challenge accepted
The goal-scoring machines find giving each other compliments easy to come by and share some impressions of past matches they will never forget.
"We have different characteristics but we're both 'killers'. He is one of the best players in the world with a remarkable shooting armoury, which is clearly visible when he shoots penalties.
"Considering our past clashes, I have to say moment I remember best is Horvat's three lobbed penalties against Saric while I was playing in Barcelona. It is just wow! I mean, you do that in training, but against one of the best goalkeepers in the world for three times, that's amazing," says Rocas, whose past performances have also stuck with his opponent.
"We have a lot in common but we're also very different. I admire how easy it looks when he is playing, the technical perfection which he is known for which drives his opponents crazy.
"You can't even blink for a moment guarding him and when you have Juanin on the other side, that's an amazing duo.
"My memories of our matches against each other are not the best I have to say. While he was in Barca we've played against each other six times and we've managed to beat them only once, in Blaugrana."
The Spaniard rounds off the interview with a challenge for Horvat: "If he manages to score three lobbed penalties again on Saturday, I'll buy him a beer."
"I'm not sure about three lobs, but I'll do my best to score as many as possible. You never know about penalties, they are a lottery. But, of course, have the money prepared," responds Horvat in conclusion.
Author: Bruno Pinevic, Adria Barrio / cor