Stage set for race to top of Group B
KS Vive Tauron Kielce are the only hunters of FC Barcelona Lassa remaining in the race for Group B's top position thanks to their clear victory at Montpellier on Sunday. If the Catalans lose their final group phase game against Rhein-Neckar Löwen and the Polish champions win their match against Szeged, Kielce finish on top and will proceed immediately to the VELUX EHF Champions League Quarter-finals.
Despite the defeat, Montpellier celebrated on Sunday evening as they clinched their berth for the Last 16 when Löwen defeated KIF Kolding Kobenhavn. The French side finished sixth courtesy of their earlier win in the crucial direct encounter against seventh-ranked team IFK Kristianstad.
In the Match of the Week HC Vardar emerged with a precious win that moved them up to fourth on the table. Though MOL-Pick Szeged have proved time and time again they are a force to be reckoned with on their home court, HC Vardar were rewarded for a flawless six minutes at the start of the second half that gave the Macedonian powerhouse the edge.
Montpellier HB (FRA) vs KS Vive Tauron Kielce (POL) 27:32 (16:17)

The initial score of 1:0 represented the one and only lead for the hosts during the full 60 minutes, but Kielce still struggled to cast off Montpellier initially despite their stronger defence. Experienced Michal Guigou and young gun Ludovic Fabregas kept Montpellier's fire burning in the first 30 minutes, contributing four each with Fabregas shooting at 100 per cent.

On the other hand, the record French champions could not stop Kielce line player and EHF EURO 2016 silver medallist Julen Aguinagalde, who netted five of six shots before the break.

The biggest advantage Kielce held was four goals, when Denis Buntic scored for 14:10 seven minutes before the break. But later on his side lacked consistency in defence, as Montpellier adapted and found gaps mainly from the wing positions.

After the break, Montpellier levelled the game several times, including at 19:19 when goalkeeper Vincent Gerard scored against shorthanded Kielce after the guests replaced their goalkeeper with an additional court player.

But the French side could not take the lead in that crucial moment, as they were too disorganised in attack on several occasions.

While goalkeeper Marin Sego contributed saves that made trouble for the home side, Kielce profited from Montpellier's missed chances, forging ahead with three successive goals to 23:20.

When playmaker Diego Simonet had to leave the court due to an ankle injury, Montpellier's last hopes were shattered and Kielce finally decided the encounter in minute 51 with a score of 29:23.

The top scorers were Ivan Cupic (Kielce) with seven goals and Fabregas with five for Montpellier, both at 100 per cent.

MOL-Pick Szeged (HUN) vs HC Vardar (MKD) 29:31 (14:13)

There was no shortage of drama in the first 30 minutes of one of the most exciting and level games of the week. With both teams vying for a better position in the group, every mistake was there to be punished.

It was no surprise that the first half saw six lead changes, with each side's defence initially having little say in the game.

But it was Szeged who led after the first half, with an impressive display from Gabor Ancsin, who scored six goals in total. It was a battle between the two right backs, with Ancsin countered by Jorge Maqueda Pena, the Spaniard from Vardar who managed to keep the Macedonian side afloat through the first period.

The 14:13 score line was quickly wiped off by an unexpected Vardar force when the match resumed. The Macedonian side came out strong in the first six minutes of the second half, while Szeged could not find their way to the goal.

Maqueda may have been Vardar's top scorer, but it was Alex Dujshebaev and Sergei Gorbok who engineered the 4:0 run that helped Vardar win the game.

Vardar's scoring run proved a serious mental blow for Szeged, who, despite their amazing support, could not get back in the game. The unstoppable Maqueda continued to put goal after goal on the scoreboard, leading Vardar to an impressive 63% shot efficiency at the final whistle.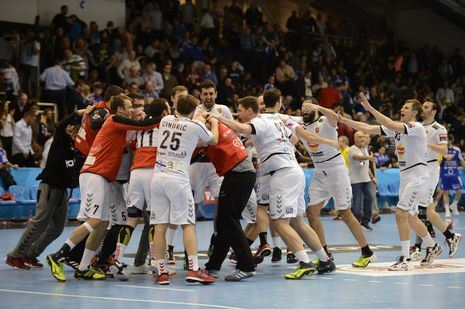 "We played a tough game, defence was dominant," said Vardar coach Raul Gonzalez. "The difference was in the second half that Milic got in the goal and helped us with very important saves. On away games, it is only possible to win with such a goalkeeper performance."

Maqueda scored eight for Vardar, while Slovenian prodigy Dean Bombac had another great game for Szeged, scoring seven times.

If Szeged are to regain their place ahead of Vardar on the group table, the Hungarians need a win in their last game, against Kielce, as well as a Vardar loss in Skopje against Montpellier in the last round of group phase matches.
Rhein-Neckar Löwen (GER) vs KIF Kolding Kobenhavn (DEN) 24:20 (12:11)

Rhein-Neckar Löwen stayed in the hunt for a top-three finish in a tough main round group after a stirring comeback against Kolding gave them a worthy home win over the Danish side.

With the last round of matches coming up, the German side are four points behind leaders and reigning champions FC Barcelona Lassa, and trail second-placed KS Vive Tauron Kielce by two points.

The opening third of the match saw a Scandinavian whirlwind, with Kolding firing on all cylinders to take a stunning 8:3 lead early on.

Knowing they had to win in order to keep alive any hopes of progressing to the Last 16, the visitors shocked their more illustrious rivals with incessant pressure in defence and mobile attack.

Playmaker Bo Spellerberg and left back Lasse Andersson consistently got the better of their counterparts as Löwen struggled in attack and left too much space in defence for Kolding to exploit.

However, the home side showed all their might with a 6:1 blitz that redressed the balance, before they nosed ahead at the interval thanks to inspired play from their Icelandic import Stefan Sigurmannsson.
"We did not do more than we had to, and due to our tough programme we spared some players such as Hendrik Pekeler and Uwe Gensheimer. So I especially was satisfied with the performance of our left wing Stefan Sigurmannsson," said Löwen coach Nicolaj Jakobsen

Sigurmannsson scored four goals in the first half and Stefan Kneer added three, while Spellerberg and Andersson netted three each at the other end.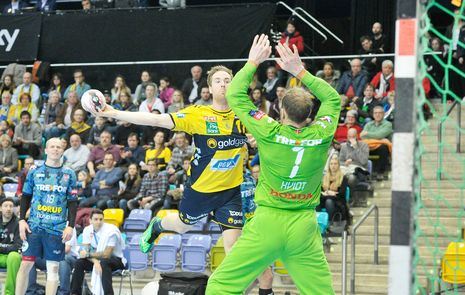 Caught cold by the turn of the tide, the visitors were still reeling when the second half began and soon fell three goals behind to 13:16, which turned out to be the game's pivotal moment.

The Mannheim Lions never looked back after surging clear, while Kolding fizzled out in the last 15 minutes as they could not match the home team's pace and creativity.

Sigurmansson capped a fine individual performance with seven goals from nine shots and Kneer added four goals from as many attempts, with the support cast doing their job perfectly.

Spellerberg and Andersson bagged five goals apiece for Kolding, who no longer have any chance of avoiding a group stage exit.
Author: Bjorn Pazen / Adrian Costeiu / Zoran Milosavljevic / cg