29.06.2007


Portland appoints new coach, the 47-year old Javier Cabanas.
25.06.2007


Croatian star, Ivano Balic, was voted World Handball Player of the Year 2006. He says that the award gives him a lot of motivation for the upcoming season when Portland will play for the Champions League again.
31.05.2007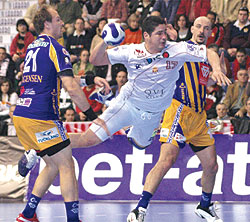 Ciudad Real and Portland have already secured their place in the 2007/08 CL, León and Barcelona are still playing for it. León are in advantage...
27.04.2007


While CL arrived to the final, the Spanish quarterfinalists will face each other again for the Asobal title. Ciudad Real vs Portland on Saturday!