31.05.2007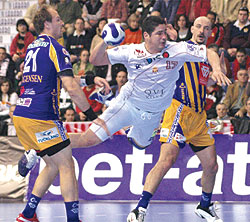 Ciudad Real and Portland have already secured their place in the 2007/08 CL, León and Barcelona are still playing for it. León are in advantage...
27.04.2007


While CL arrived to the final, the Spanish quarterfinalists will face each other again for the Asobal title. Ciudad Real vs Portland on Saturday!
02.04.2007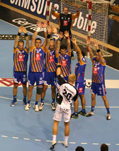 After Portland San Antonio were knocked out of the EHF Champions League compeition at the weekend, the players from Spain are now looking towards their National Championship for a better result.
02.04.2007


Way up in the north of Germany, spirits were on a high on Friday night, with words from the German song "Wenn nicht jetzt, wann dann?" meaning "If not now, then when?" filling the evening air. Over 10 000 Kiel fans filled the Ostseehalle in Kiel to support their team in what turned out to be a thrilling match which could of gone either way...