The end of a chapter: let's finish this on a high!
Two years ago, I was in Budapest and nobody believed in CSM Bucuresti. It was a roller-coaster season, in which nobody believed in us until the end, but we took the Papp Laszlo Arena by surprise and won the trophy after a penalty shoot-out, against Györ, who were cheered on by 10,000 fans.

It was the most beautiful moment I ever experienced on a handball court! It was a dream came true, it took us all by surprise and we partied hard after that win.
But the past is the past! Now, it is time to close the circle. Maybe you would have heard that these are the last weeks for me in the CSM shirt.
If not, then be sure that I want to end my time here on a high. The second win in the Women's EHF Champions League? Bring it on!

Excitement and sadness

For the last three years, I have called Bucharest my home. I think it was the right choice back then to move from Viborg to Romania and it proved out to be one of the best decisions in my life.
I think I improved a lot as a player, but even more so as a person. I played with teammates from different countries, with different cultures. I learnt a lot. This was a great step for me in the right time of my life, when I was young.

It is kind of a blur right now because memories are passing through my eyes. In my heart, there is a mix of emotions that I really cannot put my finger on.
I know that I am leaving this beautiful moment in my life and that feeling is settling in right now. That probably is sadness. But the excitement to feature in the Women's EHF FINAL 4 is keeping the flame burning.

I will not bore you with all them teary-eyed stories, but I must take a bow for the fanatical Romanian fans who made me feel special in these three years.
If you watched our games, you could not miss some of the banners they made for the players. I was happy to be cherished and cheered by a special group of fans.
When you come to the games and you see all the fans cheering for you and spreading so much love, it is great.

A car full of balloons

I got so many teddy bears and gifts, I could fill a house with them. I have some special banners in the arena and wherever you go, there is somebody coming to you and wanting to say hi and this is what I like about Romania.
I will miss playing in Romania, where even the opponents are cheering for you and applauding you every step of the way.
Certainly, I will not forget that these fans came and "attacked" my car during a training session. When I got out of the training arena, my car was full of balloons and post-its that begged me not to leave. I was overwhelmed!




Sadly, all beautiful things come to an end.
Leaving CSM was one of the toughest decisions I ever had to make. I was asked by a lot of people what made me take this decision and I think I need something new in my life, to take a new step in my career and complete my personal development as a player and as a person.
There are some things I will keep to myself, but mainly the reason I decided to leave was that I really needed a change.

It took a lot of time before I finally made my decision and it was really back and forth, taking a calculate approach, putting the positives and the negatives on paper and the lists were almost clashing, making it a very hard decision.
But I made my peace with it and hopefully it will turn out brilliant, like three years ago, when I decided to leave Viborg for CSM.

We need a bit more of everything

Ok, this is a blog post, but it looks like I am talking too much about myself and my future.
You are surely interested more about the FINAL4 and how I and my teammates are feeling about this hectic end of the season.

We will play against Györ in the semi-final, after we played against Vardar in the last two seasons.
They have a really good team, but we need to win against any team if we want to get our hands on the trophy.
It was our mindset two years ago and it should be this time too.
Therefore, I personally did not have any team to play against in the FINAL4. You cannot say that you want this team or that team in this phase of the competition.
I think it will be up to the one who will be the most prepared side in that moment. I do not think it matters if it is Györ, Rostov or Vardar because all four teams are very strong right now.
We played against Györ this season, we won in Bucharest and lost in Györ, so they are not unbeatable. And we should focus only on the win.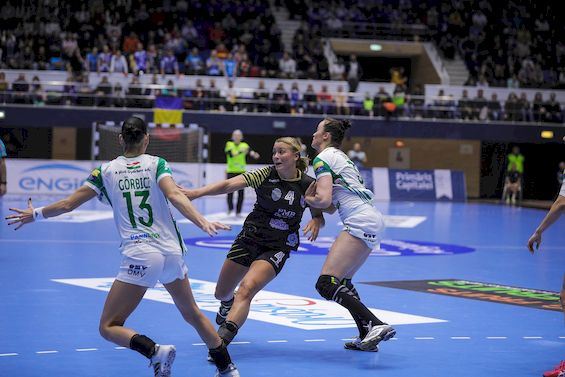 It is not our first rodeo here, many of us have been there, on the court, for good or for bad.
Our coach, Per Johansson, was also with us last season, when we finished third and it is very good to have this experience and see what we did wrong last year and go back, revisit our mistakes and learn from them.
We lost against Vardar in the semi-final and we must not make the same mistakes.

I think we need to play as a team, in many games this season we played a little bit too individual in both ends and we did not have so much energy.
This is the Women's EHF FINAL4, however, and it must come naturally for us.
We need a little bit more of everything: energy, dynamism, grit.

We only had Per as a coach for the last month, as he replaced Helle Thomsen.
I played here for three years and we changed the coach seven times and we are getting used to it.
It is always hard because you have the playbook and you need to change a little.
But Per only did some finetuning, only changed small things. If this happened the first time, we probably would have panicked, but we are so used to it.

There are several changes in the team from last year and we have new players, like Nathalie Hagman, Marit Frafjord, Amanda Kurtovic or Cristina Neagu.
Cristina is a very good player, there are not many players who can shoot from any position. That her is top quality on the court, she is very good.
She wants to win puts high demands on everyone. If you have high demands, you believe in that person, for me it is good.

Shout-out to our fans: you're the best!

Well, the clock is ticking and I think I have really wrote everything that went through my head, right?

Oh, wait, I totally forgot! I have to give a huge shout-out to our Romanian fans, who will flock to Budapest in the thousands!
I know there will be 10,000 Györ fans, but you can always hear our fans, even when they were outnumbered and only 500 of them cheered for us two years ago, you could hear them on the court and that gave us a lot of energy.
It is unbelievable. I asked my mum and my dad, who are coming to Budapest, if they wanted to sit somewhere more comfortable or between the Romanian fans. And they asked me if I was crazy.
Of course, they wanted to sit near to these amazing people and this is an experience in itself.

Hopefully, we will win this trophy once again for them! And, I will not hide, also for myself! The first time I won it it was unexpected and really great and I will never forget those moments, but win it once again, when I am close to leaving CSM, would be a perfect swansong.
It will be great to finish in that way because you never know when you will find the chance again.

Until then, we will continue to train hard because this is the only path to success I know.

Have a wonderful time in Budapest,
Bella
Author: Bella Gullden / bc