Györ through to Main Round
Last Saturday (4 November), FC Midtjylland became the first team to advance to the Women's EHF Champions League Main Round from competitive Group B, and now current title holders Györ will join them following their 25:23 victory against Rostov-Don, which put both the Hungarian and Danish sides on six points.
Russian side nearly drew level late in second half after comeback
Rostov need one point in the two remaining games to qualify through
Anita Gorbicz and Eduarda Amorim were Györ's top scorers with five goals each
Ana Paula Rodrigues and Siraba Dembele netted five times for Rostov
GROUP B

Györi Audi ETO KC (HUN) vs Rostov-Don (RUS) 25:23 (13:9)

Two weeks ago, the Women's EHF Cup winners from Rostov upset Györ in Russia with a narrow 23:22 victory in their Women's EHF Champions League Group B clash, but at home, the Hungarian powerhouse were seen as clear favourites, and ultimately, they took revenge in another exciting thriller showcasing some of the world's best handball players.

The first half tonight did not produce such a tight battle though, as the home team, supported by their loud crowd, dominated on court to nearly put the game out of reach of their opponents, who had travelled for over seven hours from Russia to make the match in Hungary.

Between the 15th and 21st minutes, Ambros Martin's side moved the score from 6:4 to 11:5 as Rostov-Don, coached by the Frenchman, Fred Bougeant, had no answer to Stine Oftedal, Nora Mork, Dude Amorim and the Györ leader, Anita Gorbicz.

Györ's aggressive defense was a problem for Rostov with Norwegian national team goalkeeper Kari Grimsbo making a number of good saves, contributing to the Hungarian side's four-goal lead at the break.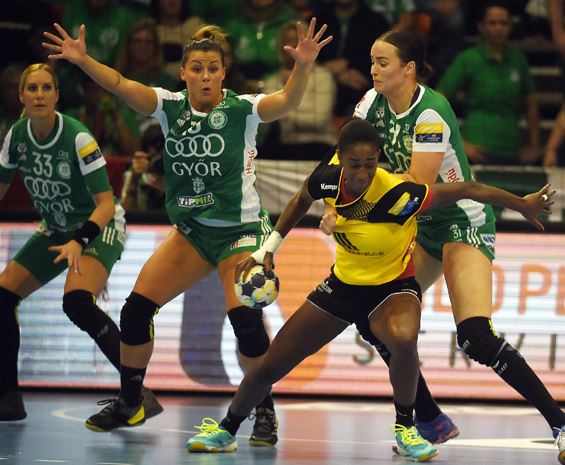 Game Over?
However, despite their lead, a team with such global stars as Siraba Dembele, Mayssa Pessoa and the Russian trio of Anna Vyakhireva, Iulia Managarova and Ekaterina Ilina can never be written off and so it was to prove as the home side needed their four-goal cushion in a hard-fought second half.

Led by captain Managarova and Dembele, Rostov showed a fighting spirit and hunger, almost catching up with their opponents in a frantic final few minutes, complete with nervous time-outs from both coaches.

A minute from time, Györ led by just one goal (24:23), but could not make their attack count and Oftedal's fourth and final goal in the match was a huge relief for the Hungarian side – as it ended Rostov's hopes to salvage a point.
But both teams knew they were in a game – especially the two prominent goalkeepers who were quick to acknowledge the match as an event in itself.

"Our team spirit worked really well today," said Grimsbo after the match. "It was a fantastic atmosphere and fantastic match – this is what a handball fan would like to experience every time."

For Mayssa Pessoa, despite the result, the performance gave the Brazilian hope for the possible future rounds her team will face. "We played an amazing game today, but Győr showed another side to what they did in Rostov and there was a really good atmosphere in the arena.

"We fought - this is what I am satisfied with, but we made more mistakes than they did. I am proud of my team, because the beginning of our Champions League was not so easy, but I think we are on the right way now."
Author: Sergey Nikolaev/amc