Kristiansen: Defence and home ground will see us through
"Reaching the quarter-final would mean a lot to me personally. I want to get as far as possible in the Champions League with FC Midtjylland before I leave the club." Veronica Kristiansen is in no doubt about her goals for her last months with FC Midtjylland, before she joins Györi Audi ETO KC at the end of the season.

"Getting far in the Champions League and winning the Danish championship are my goals for my last season here," says the 27-year-old Norwegian international ahead of the Danish derby against Nykøbing Falster Håndboldklub in FCM's last main round clash this Saturday.

Provided that RK Krim Mercator lose their final main round match away against Györ, a win will send Midtjylland to the quarter-finals for the second year in succession, while a draw or a victory for Nykøbing will take the reigning Danish champions through to their first Champions League Quarter-final ever.

The match between Györ and Krim will end just as Midtjylland and Nykøbing take the court on Saturday evening, so both Danish teams will know the conditions at throw-off.

Optimistic despite injuries

FC Midtjylland are severely diminished by injuries and pregnancies before the clash on Saturday. Right wing Anne Mette Pedersen, back Tonje Loeseth and line player Julie Gantzel are all sidelined with injuries, while line players Linn Blohm and Sabine Pedersen, as well as back Trine Troelsen, are on maternity leave.

"Of course, we are missing some players, but this will give others the chance to shine, as we saw in Bucharest on Sunday," says Veronica Kristiansen, referring to her team's away game against CSM Bucuresti, where Midtjylland had a strong performance and were leading as clearly as 7:3, though they ultimately lost 29:24.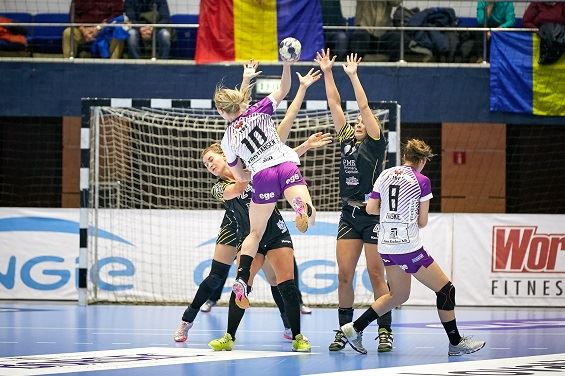 "I think our defence can make the difference on Saturday, especially, of course, if we can benefit from some successful defensive actions by getting some of those so-called easy fast break goals.

"The advantage of playing at home should do the rest," says Kristiansen, who extended her contract with Midtjylland for another three years a few months ago, before she was bought out of that contract by Györi Audi ATO KC.

"I found it awesome that one of the strongest clubs in the world wanted me, and I have only heard positive things about the club from the other Norwegians who are playing there, so I am really looking forward to joining.

"First of all, however, I want to finish in style with Midtjylland, where I have had three fantastic years. The best way to end my career here is by helping the team get as far as possible in the Champions League and win the Danish championship again."

Well-known opponents await

Kristiansen and her teammates in Midtjylland already know what they will be up against if they make it to the quarter-finals. HC Vardar are sure to win main round Group 2 and will therefore be waiting in the next stage.

The Macedonian outfit will be a well-known opponent for Midtjylland, who also met Vardar in the quarter-final last year. At that time, the Danish team had a good chance of making it to the Women's EHF FINAL4.

Having lost the first leg 26:28 at home, Midtjylland were leading by three goals at the beginning of the second half in Jane Sandanski Arena in Skopje, before Vardar turned the match around and booked the FINAL4 ticket with a 26:24 win.

"Of course, Vardar will be a tough opponent in the quarter-final, but quarter-finals sort of live their own lives. If we get to meet them again, we will just have to fight with all we have and see where that leads," says Kristiansen.

"First and foremost, however, it is all about clinching that quarter-final berth. I see our chances as being good, and it would really mean a lot to reach the quarter-final once again."
Author: Peter Bruun / cg