Görbicz stars as Györ get revenge against CSM
Two weeks ago, CSM Bucuresti had to navigate through a tormented game against Rostov to snatch a last-gasp draw against the Russian side.

While many might have labelled the 22:22 draw as an accident, the Romanian side are now clearly in hot water after another woeful attacking performance tonight, against Györ, who took advantage of their opponents' struggles and never went behind, taking a 28:24 win.
Anita Görbicz was almost unstoppable for Györ, producing a vintage performance, with 10 goals
Cristina Neagu had another off-night for Bucharest, with six goals from 14 shots
The team from Hungary are now top, and favourites to win the group, while CSM and Rostov will face off in the last round for second place
The Hungarian side will play against NFH at the weekend, and then host Krim in their final Main Round match on 10 March
Györ's Anja Althaus returned to Women's EHF Champions League action for the first time since November following injury
GROUP 1

Györi Audi ETO KC (HUN) vs CSM Bucuresti (ROU) 28:24 (13:11)

If somebody told Györ before the game they would have a two-goal advantage against CSM after the first 30 minutes they would have been happy to take it, but the lingering feeling was that the Hungarian powerhouse should have led by at least five goals after one of the worst displays in recent memory from the Romanian champions.

First half slump for Bucharest
It was all Györ in the first half, as the side coached by Ambros Martin continuously tormented the Romanian attack with a rugged defence - limiting the attacking threats of Cristina Neagu, Amanda Kurtovic and Isabelle Gullden to just six goals between them.

The Romanian side risked it all early on as they attempted to keep in touch but conceded three consecutive goals from midfield in the last five minutes of the opening period as their goalkeeper Paula Ungureanu failed to make it back into her goal in time, after CSM coach Helle Thomsen had deployed a 7 vs 6 attack, pulling off Ungureanu.

Despite this, CSM managed to keep their boat afloat limiting the deficit at the break to only two goals, 13:11 as a depleted Györ - missing the injured Nora Mork and Duda Amorim - wondered if it would be enough to see the game out and take the two points.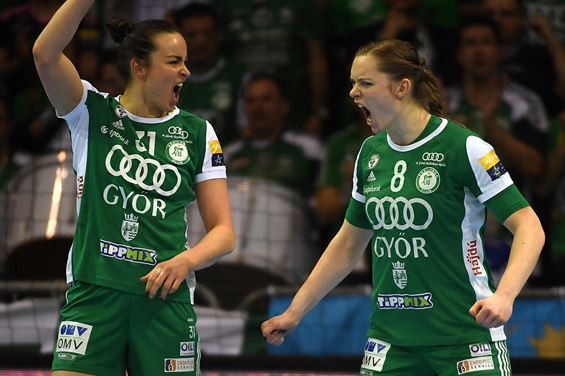 No Neagu, no party for CSM
But the home side did not need to worry as it looked over for the Romanian side after only seven minutes into the second half as a 6:2 run, spurred by a flurry of saves from Norwegian goalkeeper Kari Aalvik Grimsbø saw the hosts take a commanding six-goal (19:13) lead.

When Györ went seven goals ahead (24:17) in the 46th minute, it was a defining moment for CSM's game, with the Romanian side in constant search of an answer to stop their opponents.

Their quest was doomed from the start as Györ had sealed their win early and CSM were not composed enough to succeed in a red-hot atmosphere in the Audi Arena.

It was also a case of a dull performance from Neagu, who never looked like herself both in attack and in defence. Such is the expectation of one of the world's best players that her total of six goals to make her top-scorer for her team were not up to her usual high standards.

The 28:24 win for the Hungarian side means they are in pole-position in the group and hot favourites to the first place after the last two rounds of matches, with CSM and Rostov likely to battle for the second place, with their encounter in Russia in the last round looking decisive.
Author: Adrian Costeiu/amc