Györ and Rostov finish off in style
Before the last match day in Group B, all three progressing teams had already been determined. Yet the direct duel between Rostov and Midtjylland was to decide how many points both teams would take to the Main Round.
The Russian champions won 27:20, and advance with four points, leaving Midtjylland with just two. The group leaders Györ, who beat Brest 26:17, have six points to carry over.
Györ top the group with 10 points
A total of 11 players scored for Rostov against Midtjylland
Brest have not earned any points in the group phase
GROUP B
Rostov-Don (RUS) vs FC Midtjylland (DEN) 27:20 (15:7)
In Round 2, Rostov had lost in Ikast (24:21), so now they enjoyed a revenge in a match where they strongly dominated most of the time.
The Danish side opened the score, but then they could not find the net for 12 minutes before Veronica Kristiansen converted a penalty shot.
During this time, Rostov had an impressive 7:0 run as Anna Sedoykina shone in goal, and Maya Petrova, Katarina Bulatovic and Ana Paula Rodrigues were superb in attack.
By the 16th minute, the visitors' coach Kristian Kristensen had already called for two time-outs, which helped to improve the game somewhat in attack. Yet Sedoykina made 11 saves before the break, and Rostov were in a confident eight-goal lead at half-time.
Veronica Kristiansen, so prolific in a few previous games, underperformed in the first half as she missed most of her attempts. However, later on the Norwegian improved and became the top scorer of the match with nine goals, but it was not enough for Midtjylland to come back.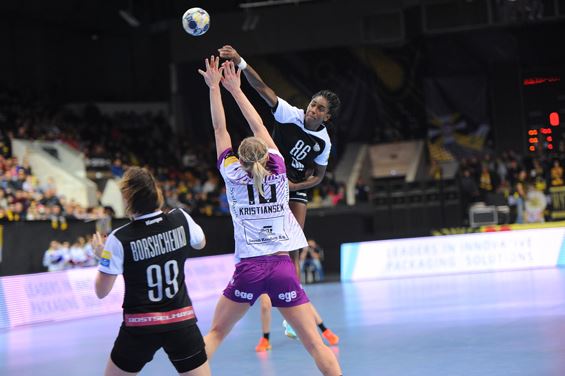 Rostov-Don coach Fred Bougeant said the team were happy to progress with four points.
"We had a good preparation, and we watched the previous game of our opponent against Györ," he said. "We lost the first game in Denmark, that's why our home victory is so important.
"We had some changes in our squad and everybody got an opportunity to play, it's important," Bougeant added.
Györi Audi ETO KC (HUN) vs Brest Bretagne Handball (FRA) 26:17 (13:7)
Nothing could move Györ from their top position in the group, and the points taken against the outsider from Brest will not be carried over to the Main Round anyway. However, the reigning European club champions did not relax their approach and comfortably claimed their fifth victory in the group phase.
Brest certainly had their motivation as the French side were unwilling to finish their maiden EHF Champions League campaign with zero points. However, they realised that it would be extremely hard to obtain points in Györ.
While the 10 opening minutes were tight, then the Hungarian powerhouses started to demonstrate their superiority. Their game was not perfect, yet the home team forced Brest to make one mistake after another, and Györ led by six goals at half-time.
After the break, they went on to dominate and ultimately earned a deserved victory. Yvette Broch was Györ's best scorer this time, netting seven times.
Györ coach Ambros Martín congratulated Brest for their efforts.
"They made a really good job in this Champions League season, even against strong teams – they had the possibility to make hard moments for them. I hope we will see each other soon," he said. "It was a really good match today, fortunately our young players were also able to contribute to the victory, and I think they tried to do their best to say thanks for the minutes on the court which they deserved."
Brest coach Laurent Bezeau said playing in the "fantastic" atmosphere created by the home fans was difficult.
"We have also some injured players which made our situation also harder, but I think we played well in the first half. In the second half we had to face the fantastic performance of Györ's goalkeeper, and we couldn't find the solution for it," he added.
Author: Sergey Nikolaev/jh