Metz advance after hard-fought win in Norway
Metz Handball are through to the Women's EHF Champions League Main Round and sure to finish top of Group D after winning 25:22 in Norway against Vipers Kristiansand on Friday night.
A strong defence and a patient attacking play were the keys to the French win.
Metz are the only team in Group D to have already qualified for the main round

Vipers' destiny in the tournament will be decided in the final round next week

Gros scored seven goals for Metz, Kristiansen and Sulland six each for Vipers
GROUP D
Vipers Kristiansand (NOR) vs Metz Handball (FRA) 22:25 (11:12)
In addition to pregnant goalkeeper Laura Glauser, Metz were also missing German left back Xenia Smits this Friday night in Southern Norway, but that did not keep the French champions from winning.
A patient attacking play and a solid defence helped them as Metz went ahead 5:2 and 8:4.
A stellar Katrine Lunde in goal and fine attacking performances from Emilie Hegh Arntzen and Linn Jørum Sulland brought Vipers back in the game.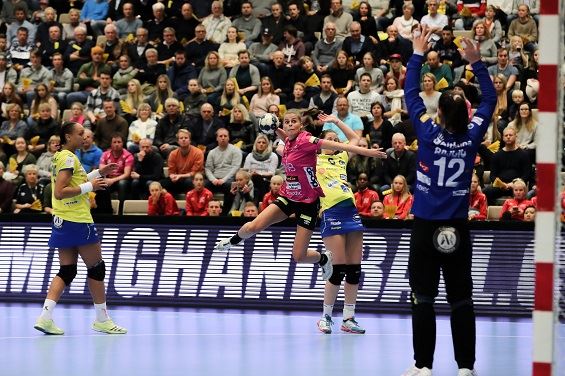 At half-time the hosts trailed by one goal (12:11), but it did not take Metz long after the break to re-establish their four-goal lead and even increase it to five (18:13).
Being down 19:14 after 10 minutes into the second half, Vipers started playing seven against six and did so for the rest of the match, while Sakura Hauge replaced Lunde in goal.
Vipers succeeded in reducing the deficit once again, to two goals this time, but a brilliant performance from Marina Rajcic in goal contributed strongly to Metz staying ahead and being able to celebrate their main round berth with a three-goal win at the end.
Author: Peter Bruun / ew