Top scorer Luzumova humble and hungry to progress
Iveta Luzumova and Thüringer HC have a potentially season-defining week of matches ahead. On Wednesday, they take on German champions SG Bietigheim in a top of the table clash, then on Sunday, they can book their ticket for the main round of the Women's EHF Champions League on home court against Larvik HK.
"Of course I first have Bietigheim in my head, we want to avenge the two defeats last season and want to stay on top of the Bundesliga," the Czech international says, adding: "But the significance of the duel with Larvik is obvious."
The 28-year-old playmaker currently is in top form in all competitions, lying second among the Bundesliga's top scorers, with 44 goals in five matches, and top of the Champions League with 37 strikes after four rounds.
"I did not have this fact on my mind. I never check top scorer lists - and I never expected to have scored so many goals. It is not about my goals, but about the team's success," says a humble Luzumova.
"Maybe it is because I score most of our penalty shots. But of course it is nice to be ahead of an exceptional player like Cristina Neagu."
Surviving an injury crisis
Despite a long list of injured top players such as Macarena Aguilar, Anna Hubinger and Saskia Lang, Thüringer HC have their fate in their hands to clinch the main round berth in Round 5 after beating Larvik 31:27 in Norway, when Luzumova netted 13 goals.
"I watched all Larvik matches since then, and they clearly improved since the start of the season even though they are still on zero points. They will be a tough nut to crack.
"We do not really have alternatives to rotate at the moment, currently we have to play with only eight court players. Maybe this was the reason we did not win at FTC last weekend, when we really had a chance to take at least one point.
"We cannot rely on having to get the crucial points in the lion's den in Skopje, so we have to secure our progress on Sunday," says the Czech international, who joined THC in 2013 from French side Mios Bigamos.
Since then, she has become one of the key players in Herbert Müller's squad, which won three German titles in 2014, 2015 and 2016.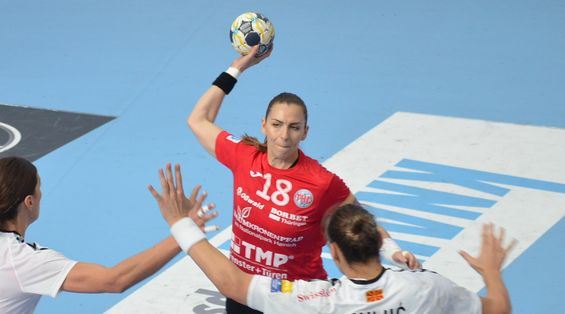 "We have many experienced players, who take the responsibility, like Kerstin Wohlbold, the goalkeepers and myself. Others like Hubinger and Lang were supposed to play this role as well, but unfortunately are ruled out at the moment."
The fortunes of both THC and Larvik have changed since the last big clashes between the sides in the 2014/15 quarter-finals.
The Norwegians taught Luzumova's side a lesson in a 36:18 win in the first encounter and won by three in the return leg, but are in a state of transition this season and are in danger of being knocked out in the group matches for the first time since the 2008/09 season.
"We need to give all we can and we need the support from the stands to win," says the top scorer, who is adamant they amount of goals she scores is irrelevant as long as the result is right.
Author: Björn Pazen / cor