Katarina Bulatovic still feels trophy hunger
No-one currently playing in the Women's EHF Champions League has lifted the coveted trophy more times than Katarina Bulatovic.
In quest of her fifth title, the success-hungry Montenegrin star left her beloved Buducnost in the offseason to join Russian powerhouse Rostov-Don.
With such a plethora of experience, very few things regarding the Champions League are new for the quintessential right back.
"Buducnost are building something great this season, and I wish them all the luck. I felt it was time to leave to pursue my goals. I have picked Rostov as they perfectly match my ambition," Bulatovic says.
A favourite with the fans
The competition has Bulatovic crossing swords again with one of her former teams, Györ. She won the inaugural WOMEN'S EHF FINAL4 with the Hungarian powerhouse in 2014, leaving a big mark on the club and becoming a favourite with the fans.
"It is always great to come to Györ. I have many wonderful memories from there, among them, the trophy we won in 2014. Even though the team have changed since my time there, I am looking forward to meet them and have a talk," says Bulatovic about the Group B match, which will be streamed live on ehfTV.com on Monday at 19:00 hrs.
"The fans have always been great to me, as well. They even came to meet me and take pictures after the game in Rostov this season," she says, referring to the 21 October game which Rostov-Don won 23:22.
"This game against Györ will be the perfect test at this point. We have the confidence to win again and they will be hungry for revenge," Bulatovic says.
Rostov-Don, on the other hand, have been bereft of much luck in recent years. Last season's campaign ended after the group matches, after they had just missed out on the FINAL4 in 2015/16.
However, with winning the EHF Cup last term everything began to slowly fall in place.
"These are the early days, still. There is a learning curve, but we are doing well. The team is still relatively new, and we all have to adapt to each other; but we are steadily growing as a whole, and you can see it in our matches," Bulatovic says.
"Their EHF Cup win last term was great for the confidence, and now they bring that very same determination to the Champions League, hungry for new achievements."
Transition to Russian seaside has been seamless
However, the team are not completely unknown to her, having played with Iulia Managarova and Alexandrina Barbosa during her 2012/13 stint at Romanian side Oltchim.
The transition from the sunny Podgorica to the harsher climate of the Russian seaside town has also been seamless for Bulatovic.
"We do a lot of things differently here, so there is no real comparison to Buducnost. The atmosphere is a bit more relaxed here, too," she says.
"The format of the Russian competition also took some time getting used to. The teammates helped me adapt to life here almost instantly. I love the city. I even drive through the streets with confidence, like I have been living here for quite a while."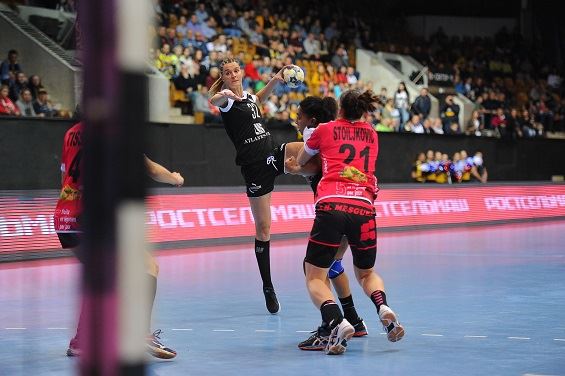 Also in training, the team are growing together, Bulatovic says.
"We gel really well, and I have great feeling about this. We are taking one step at a time, and the time is working for us now," she says. "Just give us time. From mid-season, we will be able to show the true face of this team."
To Bulatovic, last season's finalists Györ and Vardar are the favourites again.
"But I am sure we have the quality to fight for the FINAL4," she adds.
Still the same hunger
Having won the title four times, Bulatovic still feels the same hunger. She has previously won the competition with Slagelse and Györ, and twice with Buducnost.
However, she is eager to fight with the best at least once more at the FINAL4.
"I am still hungry as always. I want more trophies, more success, and more ways I can prove myself," says the right back, who turns 33 later in November.
Bulatovic is still at the top of her game, and she is looking forward to what the Women's EHF Champions League has in store for her.
"I would like to experience the FINAL4 again, at least once more. I am working at full throttle, and feel extremely well," she says. "As long as I can continue working and playing at this level, stay free of injuries and feel well, I am going to continue with handball."
Author: Nemanja Savic / ew