Metz finish second ahead of FTC
The only question left in Group 2 before the final round was whether Metz or FTC would finish second. The teams were level on points, but the French side had a head-to-head advantage, and now they beat Thüringer HC 35:29 to secure second place.
In a parallel match, FTC lost at Bietigheim (27:23), so they finished third in the group and two points behind Metz.
Victory against FTC ended Bietigheim's six-game losing run
Metz maintained a 100 per cent home record
Metz will face CSM in the quarter-final
FTC will meet Rostov
GROUP 2
Metz Handball (FRA) vs Thüringer HC (GER) 35:29 (17:19)
Regardless of FTC's result at Bietigheim, a win would secure the second place in Group 2 for Metz, and the home side, who had not dropped any points at home during the current campaign, were favourites against THC.
However, the first half surprisingly went in the visitors' favour. The fight was tight, but Metz's defence untypically made many mistakes, which resulted in 19 conceded goals before the break.
THC, who had already lost a chance to go through, were up 19:17, yet the home side turned the game around in the second half. Their defence became more aggressive, and Manon Houette, Laura Flippes and Grace Zaadi Deuna shone in attack, scoring from all angles.
Drawing level at 19:19, Metz then had an impressive 9:3 run, which helped them to pull clear. In the end, the French champions won by six goals, and 35 scored goals is their best result in the current European season.
SG BBM Bietigheim (GER) vs FTC-Rail Cargo Hungaria (HUN) 27:23 (16:11)
Bietigheim had not claimed any points since the start of the main round, and the Group 2 outsiders were on a six-match losing run, so they were motivated to leave the tournament with their heads held high.
And the German team bravely fought throughout the match. As in many previous games, they opted to play seven-against-six in attack, and finally this tactic helped Bietigheim to defeat a strong rival.
The score was 7:7 after 17 minutes, but then the hosts started to pull clear and led by five goals at half-time.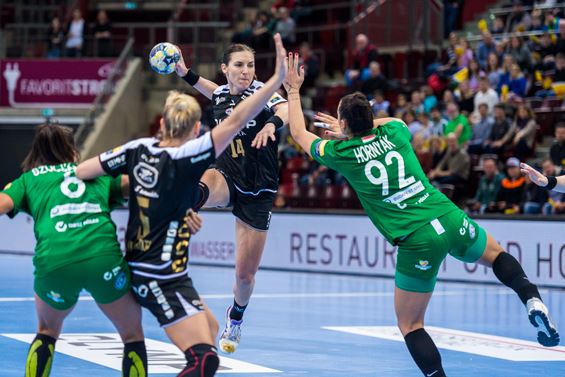 Marija Jovanovic scored seven of 11 FTC's goals before the break, and while Bietigheim did not have such a prolific scorer, they did better as a unit.
Although Jovanovic did not add anything to her tally after the break, she ended up as the game's top scorer, while Mille Hundahl and Fie Woller both netted five times for the home side.
Bietigheim maintained their superiority in the second half, ultimately clinching a victory and going level on points with THC. However, Thüringer hold a head-to-head advantage, so they finish their Champions League campaign above their fellow German team in the table.
Author: Sergey Nikolaev/jh