Things we know just before the main round ends
There is only one more round remaining in the Women's EHF Champions League Main Round. With many possibilities still open, it will be far from a routine affair this week. As we know, in handball, things often need just a split second to take a decisive twist.
Let us take a quick look at some standout performances from the last round before we go in depth to the top four takeaways.
Flamboyant playmaker Nycke Groot masterminded Györ's win to keep hold of pole position in Group 1, while Vardar and Buducnost bounced back in style in Group 2. Vardar secured the first place while six goals each from FTC's Nadine Schatzl, Nerea Pena and Aniko Kovacsics put an abrupt end to Metz's winning run.
The master class from 18-save hero Paula Ungureanu brought CSM back on track with Cristina Neagu and Amanda Kurtovic sharing the attacking plaudits.
Meanwhile, there is only one quarter-final spot left for the taking as determined Buducnost clinched their milestone berth in a tight affair.
Vardar clinch first place as Metz stutter
The Macedonian powerhouse were quick to pick themselves up from last round's defeat against Metz. Vardar clinched the top spot in their group, with 16 points from nine matches, at the expense of Bietigheim (30:22).
Tenacious FTC ended Metz three-match unbeaten run after a defensive brawl as the fans in Dabas OBO Arena witnessed a bizarre seven-minute goalless opening. Both sides are now square at 12 points.
Anticipating the ultimate round clashes, it would be interesting to see how the defeat would influence high-flying Metz as well as whether FTC's newly found confidence could raise their level of performance.
Metz and FTC are playing two German sides, Bietigheim and Thüringer HC, who are both without chances of progressing to the quarter-finals.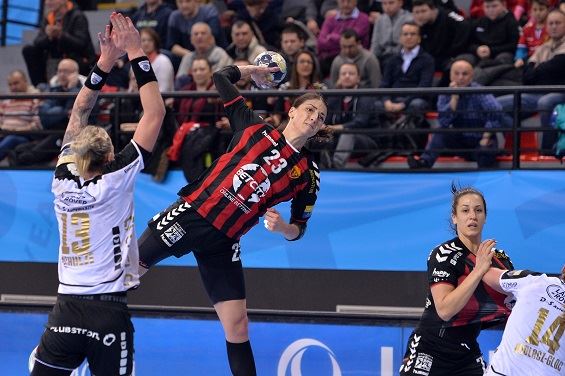 D-day in Group 1
As much as proceedings in Group 2 have been brought to resolution, there is still a lot to play for in Group 1. The ultimate round will bring the long anticipated answers to two questions: who will win the group, and which team will secure the last remaining quarter-final berth?
With their latest win, Györ top the group just narrowly, one point ahead of CSM and Rostov, who each have 13 points. The three remaining teams, Nykøbing, Krim and Midtjylland, are still in contention for the quarter-finals despite empathic defeats in the penultimate round.
In the final round, group leaders Györ are hot favourites against Krim, Rostov-Don and CSM will battle it out for the second place, and the winner of Midtjylland vs Nykøbing will likely grab that last quarter-final spot.
Buducnost hit milestone
The Montenegrin side have booked their quarter-final ticket from Group 2, having bounced back in style from their first home defeat. Buducnost have made it to their fifth consecutive Women's EHF Champions League Quarter-final following their first away triumph this season, against Thüringer HC (25:24).
Underlining the impressive achievement by the youngest squad in the competition, the two-time Women's EHF Champions League winners have missed only one quarter-final in eight seasons under the talismanic tactician Dragan Adzic.
The Montenegrin champions have reached their target for the season. They will finish fourth in Group 2, regardless of the outcome of their match against group winners Vardar on Saturday.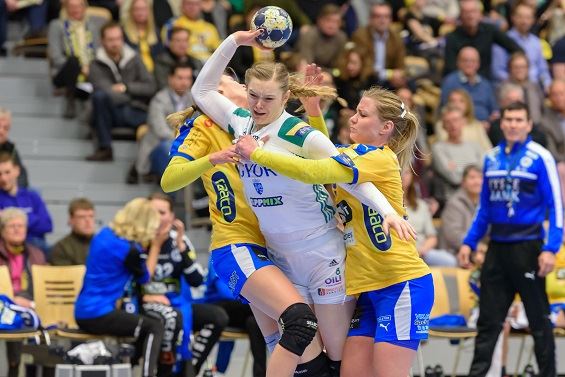 The ultimate round derbies
The main round closes with several mouth-watering fixtures. Among them is the famous Balkan derby between Buducnost and Vardar in Podgorica.
This time both Varvari and Komiti (the fans of both teams) can relax and enjoy a fine evening of handball as the match itself will have no influence on the standings.
However, the following clashes will directly decide the faith of the teams involved, and keep the suspense throughout the weekend:
- Rostov vs CSM – The winners secure second place. In case of a draw, CSM will remain runners-up due to a better goal difference. Their first meeting also ended in a draw (22:22).
- Györ vs Krim – A win by Györ will confirm the defending champions as group winners. Such result would also put Krim out of contention for the quarter-finals.
- Midtjylland vs Nykøbing – It's simple: the winners take it all! (Providing Krim have lost to Györ in the earlier match Saturday.)
Author: Nemanja Savic / ew