Vardar and CSM determined to march on
Last season Vardar boasted an eight-game winning run throughout the EHF Champions League season. The Skopje-based side, still on a 100-percent record in the competition, will repeat that feat if they beat Bietigheim in Germany on Sunday.
Vardar have seven straight victories under their belt, CSM four

Buducnost have not yet dropped a point at home this season

THC's Iveta Luzumova tops the scoring list with 60 goals
GROUP 1
Rostov-Don (RUS) vs RK Krim Mercator (SLO)
Saturday 3 February, 16:00 hrs local time, live on ehfTV.com
The morale of both teams has been boosted by their victories in the opening matches of the main round last week.
Rostov, in particular, made a successful voyage to Denmark where the Russian champions were too strong for NFH (29:25). It was their sixth straight in January win across all competitions, as they also five times in the Russian Super League.
And they have a good chance to begin February on a positive note as Rostov are favourite to beat Krim at home.
"It will be a very important match, and we need to play well in attack as Krim have a tough defence," Rostov coach Frederic Bougeant said.
The Slovenian side have character, and they showed it last week against Midtjylland when they grabbed two points in a thrilling match.
A Krim victory in Rostov, however, would mark a major upset.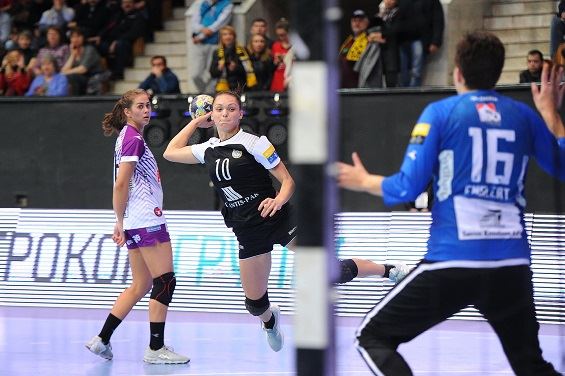 FC Midtjylland (DEN) vs CSM Bucuresti (ROM)
Sunday 4 February, 15:00 hrs local time, live on ehfTV.com
Fortune did not smile on the Danish team last week as Midtjylland came back from Ljubljana empty-handed despite fighting until the last second.
After the narrow defeat, they are last-placed in Group 1 with just two points. Still, following her eight goals against Krim, Veronica Kristiansen climbed to the second place in the tournament's scoring chart with 55 goals.
On Wednesday, however, she netted just four times in a domestic league game against Koebenhavn, and Midtjylland ended up with another frustrating defeat, 23:21.
CSM also have one of the best EHF Champions League scorers at the moment as Cristina Neagu takes the third place in the list with 49 goals.
The Romanian star is well-supported by her teammates, which makes Bucuresti a major force in European handball.
Following their stylish win against title holders Györ, CSM are the sole leaders in the group. In Denmark they will be determined to claim their fifth straight victory in the continental top flight.
Györi Audi ETO KC (HUN) vs NFH-Nykøbing Falster Håndboldklub (DEN)
Monday 5 February, 19:00 hrs local time, live on ehfTV.com
The title holders from Hungary definitely hoped for a better start to the main round than a six-goal defeat in Bucharest.
Now Györ occupy the second place in Group 1, and they are level with Rostov on six points.
On Wednesday, the team of Martin Ambros somewhat sweetened the bitter pill, beating Siofok (27:21) in a domestic league game.
And on Monday, Györ will try their best to redeem themselves once again, this time in the EHF Champions League against NFH.
The Danish side play their maiden season in the continental top flight, yet they have already reached the main round and harbour hopes to go through to the quarter-final.
However, the home game against Rostov did not increase their chances as NFH were defeated. Obviously it will be even harder to play in Györ, where the visitors need a small miracle to obtain a positive result.
GROUP 2
Buducnost (MNE) vs Thüringer HC (GER)
Saturday 3 February, 19:00 hrs local time, live on ehfTV.com
While Buducnost certainly have talent, they still lack experience to consistently get good results in the continental top flight.
In the opening group game against FTC in Dabas, the Montenegrin side fought hard for a long time, yet came up short in the second half and ultimately suffered their fourth defeat in as many away matches in the current European season.
However, at home Buducnost boast a totally different record – three wins in three group matches. So they seem to have a good chance to beat THC in Podgorica and therefore claim their first points in the main round.
While Buducnost are fourth-placed, THC sit bottom of Group 2, yet the German side feel boosted after beating Bietigheim in the German derby to open the main round.
Once again, Iveta Luzumova had a great contribution with 10 goals to stay top of the tournament's scoring list.
"We wanted to claim our first points in the main round. And now we will try to get some more points away from home," THC's coach Herbert Müller said.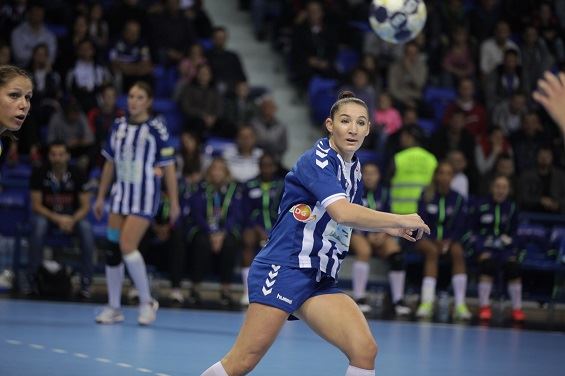 SG BBM Bietigheim (GER) vs HC Vardar (MKD)
Sunday 4 February, 17:00 hrs local time, live on ehfTV.com
While THC were happy after the all-German duel, Bietigheim left the court frustrated. They certainly had a chance in an extremely tense match in Nordhausen, yet had to come to terms with a defeat in the first main round game.
For the German champions, it is hard to make up for the absence of several injured players, including Kim Naidzinavicuis, Nina Müller and Susann Müller.
To reinforce the squad, Bietigheim have just signed Germany national team captain Anna Loerper. The 33-year-old playmaker has arrived from Metzingen, but she is not eligible to play for Bietigheim in the EHF Champions League this season.
In any case, it will be hard for the German side to defeat Vardar. For the Macedonian powerhouse it doesn't seem to matter whether they play at home or away as they are winning everywhere.
Following six victories in the group stage, Vardar claimed two points in the opening main round game against Metz.
Just like in autumn, the team of coach Irina Dibirova seem to be in a great shape, and they will do their best to confirm this impression in Ludwigsburg.
Metz Handball (FRA) vs FTC-Rail Cargo Hungaria (HUN)
Sunday 4 February, 17:00 hrs local time, live on ehfTV.com
The two teams have swapped places following their opening matches in the main round. Metz had to slip to the third position after their defeat in Skopje, while a home win against Buducnost helped FTC to climb to the second place.
As they are level on six points, the duel in France is expected to be exciting and quite unpredictable.
Metz are renowned for their solid defence, yet Vardar gave them a good lesson – the French champions had never conceded so many goals this season as in this particular match (29).
However, it is hard for any opponent to stop Vardar's attack. FTC also have a number of high-quality players in the roster, yet on paper the home match on Sunday should be easier for Emmanuel Mayonnade's team.
But FTC also plan to grab some points in this game. Their home victory against Buducnost was convincing, so the Hungarian team travel to France full of confidence.
Author: Sergey Nikolaev / ew