Rostov are too strong for NFH while Krim get late win
Rostov-Don have started the Women's EHF Champions League Main Round on a positive note, claiming two points in Denmark by defeating Nykøbing 29:25 on Sunday.
Also, RK Krim Mercator edged FC Midtjylland 24:23 in the last match of the opening round.
Rostov are now level on six points with the second-place Györ

NFH lost but Johanna Westberg was the best scorer with six goals

Perederiy scored Krim's winner, Kristiansen led with eight goals for Midtjylland
GROUP 1
NFH-Nykobing Falster Handbolklub (DEN) vs Rostov-Don (RUS) 25:29 (13:15)
Having started the year 2018 with five straight victories in the Russian domestic league, Rostov were determined to claim two points in Denmark as well. And they did just that, taking a four-goal win against NFH.
The visitors took control of the game from the opening minutes on. NFH's defence had a hard time dealing with Anna Vyakhireva, Katarina Bulatovic and their teammates.
Rostov's advantage was four (15:11) with two minutes left in the first half, but Nykøbing put themselves right back into the match with two goals before the break.
In the second half, the home team further improved and even drew level a few times. While they managed to hold back the in-form Vyakhireva, Johanna Westberg put constant pressure on Rostov's defence.
But with more quality and experience at their disposal, Rostov went ahead again in the crucial phase of the game.
At 27:25 with 150 seconds left, their victory was still at risk but two more goals from the Russian side decided the match.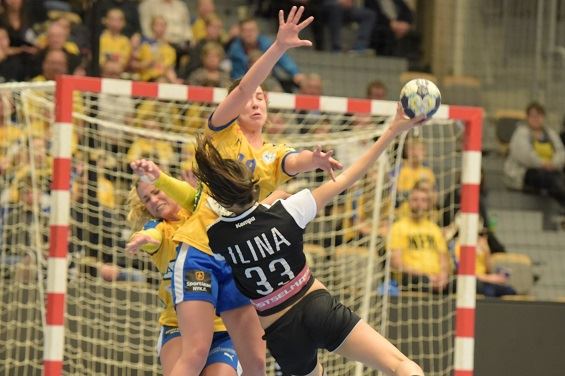 Post-match statements:
Fred Bougeant, Rostov-Don coach: "It was a collective victory today. We had a good motivation and stayed with our plan. It was a perfect day."

Jakob Larsen, NFH coach: "The best team won today. We had a small chance with the score 20:20, but they are a very clever team. We learned a lot today."
RK Krim Mercator (SLO) vs FC Midtjylland (DEN) 24:23 (11:11)
Last season, Krim lost all six games in the main round, but now they were determined to do better and saw the match against Midtjylland as a good chance to grab some points.
The hosts seized an early initiative and generally dominated in the first half, leading by a couple of goals.
However, Midtjylland have a lethal weapon called Veronica Kristiansen, who showed her power again. Her five goals in the first half contributed a lot to the hosts' drawing level at 11:11.
Aneta Benko had a chance to put her team in front again in the 30th minute, yet her penalty shot was saved by Sabine Englert.
The Danish side seemed to find their rhythm early in the second half as they led 15:12. However, Krim did not surrender. They were still 22:20 down with less than 10 minutes on the clock when they had a strong comeback.
It was 23:23 by the 55th minute and three minutes from full-time, Olga Perederiy scored a goal which turned out to be the winner for Krim as both teams missed several chances in the closing minutes.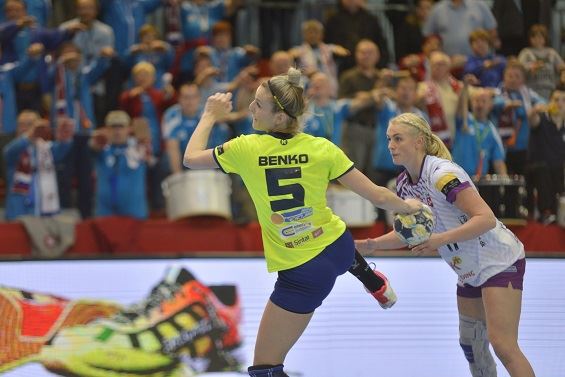 Post-match statements:
Kristian Kristensen, Midtjylland coach: "We had a good defence and a good attack but we began to make some individual mistakes. We had a chance to win a point but didn't have the coolness."
Uros Bregar, Krim coach: "It would be a big loss if we hadn't had those two points in the end. Elizabeth played badly in the last 20 minutes so we had more luck than wisdom."
Author: Sergey Nikolaev / ew