Stunning finish lifts NFH past Krim; CSM steamroll Gdynia
It was CSM Bucuresti's group all the way, as the Romanian side hoped to start the Women's EHF Champions League Main Round with eight points.

A loss against NFH three rounds ago hampered the Romanian powerhouse's objective, but Helle Thomsen's side will nevertheless lead Group A into the next phase with six points – the same as Györ – while Rostov and NFH follow with four points each. Midtjylland and Krim, both with two points, complete the main round group.

Danish champions NFH – Nykøbing Falster Håndboldklub looked like they would be outplayed by RK Krim Mercator on Sunday, but closed the game in impressive fashion to earn a 28:26 win.

• Bucuresti end the group phase with the best attack of the competition, with 192 goals scored in six games
• CSM and Györ will start on top of main round Group 1, with six points each
• 11 players score for NFH against Krim, as the Danish side win after ending the game with a 5:2 run

GROUP A
NFH – Nykøbing Falster Håndboldclub (DEN) vs RK Krim Mercator (SLO) 28:26 (11:12)

Starting the main round of the Women's EHF Champions League with two points is a big deal, especially when your opponents are Györ and Rostov – powerhouses that could beat any team.

Therefore, the game between NFH and Krim was extremely important for both sides, as a win on Sunday could prove the difference between progressing to the knock-out phase or being eliminated later in the competition. It was no surprise that the two teams played a pragmatic game, where defence was the focal point.

But it was Krim who looked better in the first half, as NFH only managed to lead in the first four minutes. It was again backs Tjasa Stanko and Alja Koren who led the charge as the Slovenian side maintained control.

However, NFH never let their opponents create an advantage of more than two goals, and the outcome of the game was anybody's guess after 30 minutes, with the Slovenian side enjoying a 12:11 lead at the break.

The deadlock was rarely broken in the second half. A more concerted effort from NFH saw the Danish team take a 17:16 advantage, with Johanna Westberg the stand-out in attack yet again for the hosts.

Though Krim managed to claw back and take the lead once more, the Danish champions were better in the end. A 4:0 partial between the 53rd and 58th minute was decisive for NFH, who impressed in crunch time and will start with four points in the main round thanks to the 28:26 win.

"We had a little bit of luck in the end. It was very hectic and the match could have gone both ways, but today it went our way," said NFH coach Jakob Larsen. "It was a hard game. Krim are a really fine team."

CSM Bucuresti (ROU) vs Vistal Gdynia (POL) 34:22 (17:14)

It took CSM three and a half minutes to score their first goal of the game, but after Cristina Neagu put herself on the score sheet, there was no coming back for the Polish team.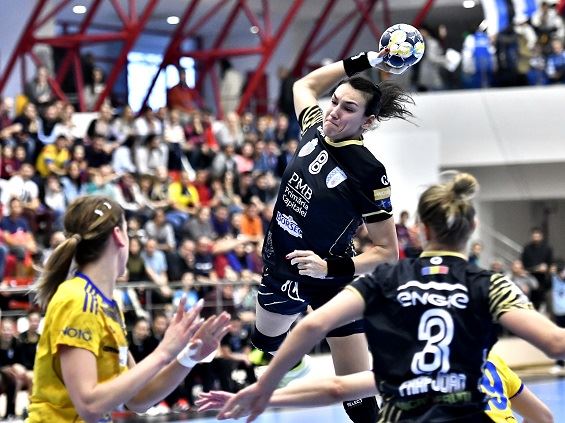 CSM coach Helle Thomsen carefully managed Neagu's minutes on court, as the Romanian superstar needed to rest her shoulder. In her place, the hosts used Bianca Bazaliu at left back.

However, it was playmaker Isabelle Gullden who ran the show, scoring four times in the first period. CSM took a comfortable 17:14 lead into half-time, though the Romanian powerhouse never went full throttle in the opening 30 minutes.

"I want to congratulate them, they played some good minutes, but we are more experienced, we have good players, the crowd was on our side," said CSM coach Thomsen. "It was good for us to win, we were focused the whole game, the last 30 minutes were very important for us. We spoke at half-time that we must run a lot and play fast. It was good for us to score 34 goals."

A 2:0 run to start the second half looked to support a challenge from Gdynia, but as soon as the hosts managed to finetune their rhythm, they took a convincing 24:17 lead. CSM's free-flowing, fast game was also impressive for the fans, who were treated to a plethora of spectacular goals, coming from no-look or air-to-air passes.

The hosts powered to an impressive win, with Nathalie Hagman and Iulia Vasilica Curea top scoring with five goals each.
Author: Adrian Costieu / cg