CSM and Krim power through to main round
The 25:22 loss against Nykøbing Falster two weeks ago motivated CSM Bucuresti to be fully prepared for the return fixture and the Romanian side did not disappoint, powering to a 39:26 win.
CSM's third win in four games, along with Gdynia's loss against Krim, means that both of today's winning sides are safely through to the main round.
· CSM never scored more than 34 goals in the European premium competition until the game against NFH
· It was CSM's biggest win in their competition history, one more than the 33:21 win against Lublin two years ago
· Polona Baric top scored for Krim for the second round in a row, this time alongside Tjasa Stanko
GROUP A
CSM Bucuresti (ROU) vs NFH – Nykøbing Falster Håndboldklub (DEN) 39:26 (18:12)
The unexpected 25:22 loss against NFH two weeks ago sent warning signs to CSM, who are seen among the big pre-season favourites.
However, the Romanian champions struggled to control the game in the early stages, with their first two-goal lead coming after 15 minutes, 8:6, after NFH failed to score with a three-player advantage.
With Gullden and Neagu dictating the rhythm and linking up well, CSM opened a six-goal gap at half-time, 18:12, as their defence starred and was backed up by a brilliant Paula Ungureanu between the posts.
There was little the Danish club could do to stop the CSM attack in the second half, with a dream-team that saw Neagu, Gullden, Hagman and Jorgensen taking turns in scoring, propelling the hosts to a 23:15 lead after 37 minutes.
The 39:26 win was more than enough to erase all doubts about CSM's credentials to contend for the title this season, while NFH will have to wait until next week to secure their progress to the main round of the competition.
RK Krim Mercator (SLO) vs Vistal Gdynia (POL) 29:22 (16:11)
An unusually fast-paced game saw the two teams scoring ten times in the first eight minutes, with the defences struggling to keep up.
It was Krim who took control early in the game, with young playmaker Tjasa Stanko scoring three times to propel the hosts to a 7:5 lead after 11 minutes.
As Krim started to play better in defence, Gdynia's attack started to fade, with their back court failing to keep up and finding solutions to score.
With rising star Stanko in great form, the hosts earned a 16:11 lead at half-time, heading to another easy win against their Polish counterparts.
It was not a walk in the park for Krim, as Gdynia fought to get back and cut the lead to three goals, 22:19, with only 15 minutes to go, thanks largely to Aleksandra Zych's goals, who had her best game to date in the competition to date.
However, it was not enough. A more experienced Slovenian side went on a 4:0 run to open an insurmountable gap and secure their third win in the group.
The 29:22 result was not a glamorous one for Krim, but was enough to secure safe passage to the main round and coach Uros Bregar was keen to move on: "As I was saying the whole week that isn´t going to be easy for us. I am happy that it ended up the way it did, but this game goes into the oblivion because we are now looking ahead to the match with Bucharest."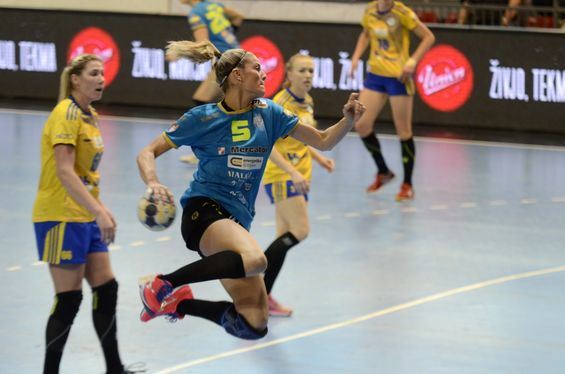 Author: Adrian Costeiu / cor