Midtjylland again too strong for Brest
Just like two weeks ago, Midtjylland managed to beat Brest, this time with a 27:23 score. Now the Danish side have eight points, two more than group favourites Györ and Rostov who are scheduled to face each other on Monday.
Midtjylland played their 100th game in the EHF Champions League
The Danish side have won three successive matches
Brest still have no points after four games
Veronica Kristiansen scored 12 goals for Midtjylland
GROUP B
FC Midtjylland (DEN) vs Brest Bretagne Handball (FRA) 27:23 (12:7)
In the previous round, Champions League debutants Brest Bretagne Handball fought hard against FC Midtjylland and were extremely close to grabbing their first ever point at this level.
However, Louise Burgaard spoiled the fun for Brest, as her free throw after the final buzzer gave the Danish side a narrow 23:22 victory.
In the return match, Burgaard also had an impact, scoring four goals. But the hero of the day was her teammate Veronica Kristiansen who netted 12 times from 18 attempts.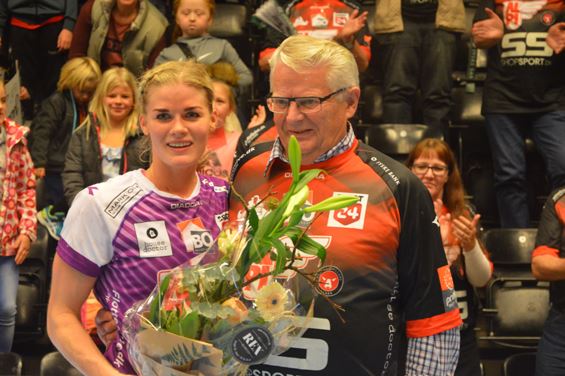 It was a close game during the 10 opening minutes, but then the home team started to dominate. Goalkeeper Sabine Englert made a number of saves, and with just 33% shot efficiency, Brest were down by five goals at half-time.
When Midtjylland extended their lead to 20:12, the outcome looked all but decided. However, Brest made a strong comeback in the middle of the second half and kept their hopes alive.
Even two minutes from time, when they led 25:22, Midtjylland were not home safely, but they held their nerve and ultimately clinched a victory.
Midtjylland head coach Kristian Kristensen said he was overjoyed with the result.
"Today's result was very impressive and the same goes for the win in Brest which was the key match. But the way the girls followed up today is an amazing job. They deliver again and again," he said.
"They know what this tournament means and that is one of the reasons why they are here. We are a part of several good international matches and now we get six more in the spring so I am very proud of the team," Kristensen said.
Author: Sergey Nikolaev/jh