Györ cruise past Midtjylland
The Hungarian powerhouse were favourites in the home match against Midtjylland, and they lived up to expectations by winning 27:16.
EHF Cup winner Rostov faced tough opposition at home against the French runner-up Brest, yet the Russian side found a way to grab two points.
Just like in the past season, Györ started their European season with a victory against Midtjylland
Anita Görbicz became the leading scorer of the game with six goals
Rostov vs Brest was a duel of French coaches.Frederic Bougeant won against Laurent Bezeau
Brest made their debut in the EHF Champions League. Rostov had won all three games against Brest in 2017
GROUP B

Györi Audi ETO KC (HUN) vs FC Midtjylland (DEN) 27:16 (15:8)

Last year, Györ also began their Women's EHF Champions League campaign with a match against Midtjylland, and clearly won (31:19).
Although the Danish side eventually took revenge at home, this time they hardly had a chance against the Hungarian heavyweight. The visitors looked overwhelmed and timid, and the difference between the two sides was obvious already in the opening phase.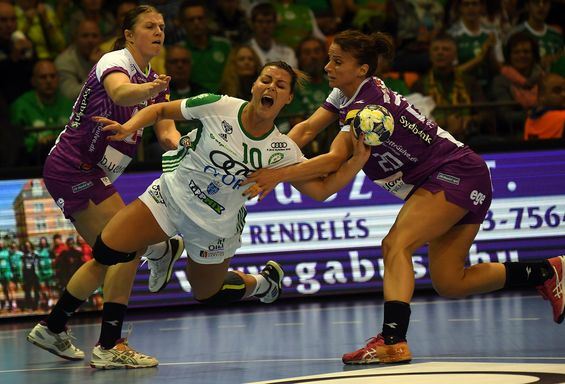 Mie Augustesen scored Midtjylland's first goal exactly 11 minutes after the start, with her team already losing 5:0. That gave the visitors a certain boost – at least they started to find the net more often – but the Champions League winners looked complete masters of the situation.
Anita Görbicz became the top scorer of the game with six goals, and her teammates followed her example, with as many as 12 Györ players putting their names on the scoresheet.
The home team were up 15:8 at the interval, and they built up a double-digit lead by the 35th minute (19:9). The intrigue of the match was dead long before the final buzzer, and ultimately the Hungarian champions celebrated a well-deserved victory.
Rostov-Don (RUS) vs Brest Bretagne Handball (FRA) 26:24 (14:13)
Last season, the two sides met in the EHF Cup quarter-final, and Rostov comfortably won both legs. Now the Russian side, who are among the favourites for the Champions League title, were also expected to beat Brest, and they did. However, Brest fought hard in their first ever game in the European top flight, and left a very good impression.
Despite missing one of their key players, Allison Pineau, through injury, the visitors enjoyed a good start and were up 3:1 after four minutes. However, then Rostov woke up and had a 5:0 run during the next seven minutes.
The time-out taken by Laurent Bezeau gave Brest a second wind, and they drew level at 7:7. Cleopatre Darleaux made a number of good saves, notably parrying two penalty shots, which also helped the French team to stay in the game, and it was 14:13 to Rostov at the break.
WATCH: Check out this incredible save by Brest Bretagne GKer @CleoDarleux in #ehfcl this afternoon - how on earth did she keep that out?!!! pic.twitter.com/WxQyoQX60N

— EHF Champions League (@ehfcl) October 7, 2017
Early in the second half, Rostov's back court shooters Katarina Bulatovic and Ana Paula Rodrigues looked unstoppable, and the hosts led 20:15 by the 38th minute. Who could then imagine that the Russian side would score just once during the next 17 minutes?
Thanks to their amazing defence and another series of Darleux heroics, Brest equalized again at 21:21. It set up a nerve-wracking closing few minutes.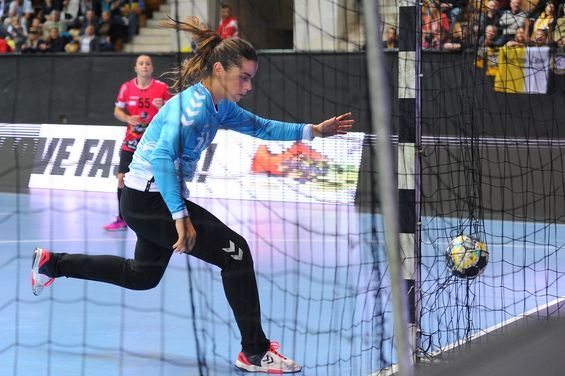 However, during the final two minutes the hosts were dominant as Kseniya Makeeva scored twice and Anna Vyakhireva, who had just recovered from injury, added another one - thus making a decisive contribution to the Rostov's first European victory of the season.
"I want to congratulate Rostov-Don with the victory, Fred is one of the most important coaches in French handball. We came here with a desire to show ourselves from the best side, it's our first season in Champions League and we wanted to make some troubles to Rostov-Don. I'm proud of my team, because we showed a good game," said Brest head coach Laurent Bezeau.
Frederic Bougeant, head coach of Rostov-Don, was respectful of the opposition his side faced. "I want to congratulate Brest, because for us it's been a really difficult game. Our main victory is that we can use all our squad after injuries. It's hard to play the first game in the Champions League at home. We managed to win, and I was really happy to see Anna Vyakhireva on the court again."
Author: Sergey Nikolaev / ap