Boarding complete for the big time
With a debutant and a long-term participant grabbing the final tickets, boarding for the Women's EHF Champions League season 2017/18 was completed on Sunday.
With Vipers Kristiansand and Thüringer HC's qualification success fresh in the memory, it is time to analyse why they came out on top and what chance the Norwegian and German runners-ups have in the group matches.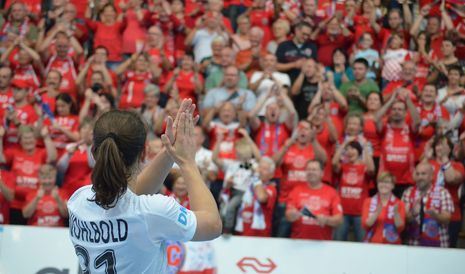 Dominance in qualification
A goal difference of +52 in two matches says all we need to know about the dominance of the Vipers in their qualification tournament on home court.
Although their opponents HC Gomel (BLR) and HC Podravka Vegeta (CRO) were never stood a chance, on the other, the Vipers never took their foot off the gas, even when victory was assured.
Kristiansand counted on the traditional Scandinavian skills of strong defence and goalkeeping, which led to endless waves of counter attack goals.
Thüringer HC's results look quite one-sided, but they did not have things all their own way. In their semi-final against Mecalia Atletico Guardes from Spain, the opponents surrendered in the final stages, while the final against Swedish champions H65 Höörs HK saw a seven-goal advantage at the break melt to three before the hosts managed to win by nine thanks to a strong final five minutes.
Experience
Kristianand may be debutants at this level, but they can count on some extremely experienced players to guide them through the group matches.
The Lunde sisters Katrine (four EHF Champions League trophies) and Kristine have won everything there is to win at club and national team level. The same applies to Linn Sulland, a world, Olympic and EURO champion for Norway and EHF Champions League winner with Larvik.
Even rising star Emilie Hegh Arntzen has proven her abilities, winning EHF EURO 2016 with Norway.
Thüringer HC signed three players from HC Leipzig, German internationals Anne Hubinger, Saskia Lang and Alexandra Mazzucco, who clearly lifted the performance level and ensured a seventh participation in Europe's elite club competition.
International players such as Engel, Pintea, Houette and Planeta have left, but THC appear stronger than last season.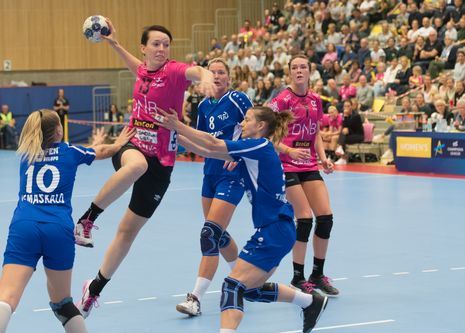 Young talent
Malin Aune is one of the top prospects in European handball, scoring 14 goals in the two qualification matches proved her skills and value to the Vipers.
Aune will grow with exposure to more international matches and Europe's top clubs will be keeping an eye on her as she makes a mark on this level.
At the age of 21, Dinah Eckerle is already heading into her fourth Women's EHF Champions League season with Thüringer HC. When experienced German national team goalkeepers such as Clara Woltering and Katja Kramarczyk retire, the number 1 jersey is certain to be hers.
Chances in the group matches
Funnily enough, both sides face the champions of their fellow qualifiers' league. Besides Vardar and FTC, THC will duel with Norwegian champions Larvik, while Kristiansand will face German champions Bietigheim, former champions winner Buducnost and last season's quarter-finalists Metz.
"We have a chance to proceed, if we manage to beat Larvik twice and win against FTC on home court," THC goalkeeper Eckerle said, aleady calculating what needs to happen to finish at least third.
"We will enjoy those matches and we are looking forward facing some top stars," said Vipers coach Kenneth Gabrielsen, who added that his players were told already to focus on Wednesday's tough league match against Byasen Trondheim, rather than celebrate their qualification.
Kristiansand will have their chance to proceed to the main round, as Buducnost is in the state of a full transition with young Montenegrin players in the squad.
German record international Grit Jurack once said: "You will fight for all titles, if you have Katrine Lunde between the posts. She is the insurance for everything." Jurack and Lunde won the Champions League twice with Viborg.
The race for third place may come down to the final group match, where Vipers visit Buducnost's legendary Moraca Arena in Podgorica.
Impact on the competition
These two sides have a huge impact on the competition as a whole. THC have regularly reached the main round or quarter-finals in the past six years, while Kristiansand will add fresh blood to the competition and may be the side to end Larvik's long reign as Norway's top women's team.
Author: Björn Pazen / cor