Vardar confirm group dominance
The famous derby did not have any strategic importance, as both teams' positions in Women's EHF Champions League Group 2 were already settled. However, it was a tight and entertaining match, during which Buducnost fought hard for a long time, though Vardar ultimately proved their superiority by clinching a 30:25 victory.

• Vardar have won 11 of their 12 matches in the competition
• Vardar's Andrea Penezic and Buducnost's Milena Raicevic both score 10 goals
• Buducnost will play Györ and Vardar will meet Midtjylland in the quarter-finals

GROUP 2
Buducnost (MNE) vs HC Vardar (MKD) 25:30 (12:15)

With one match left in the main round, Vardar had already secured the top spot in Group 2, while Buducnost were certain to finish fourth. However, both teams were determined to win the derby, and fought hard from the opening minute.

For more than 20 minutes, the battle was very tight as neither team could create a lead of more than one goal. But Vardar improved their defensive game and recorded an impressive 4:0 run, taking the score from 11:11 to 15:11, before Buducnost's Milena Raicevic scored half a minute before the break to close the gap.

Buducnost work hard to keep pace

The young Montenegrin side's determination helped them stun Vardar and draw level at 15:15 just three minutes into the second half. However, that spell did not last long, as the visitors held their nerve and quickly restored advantage.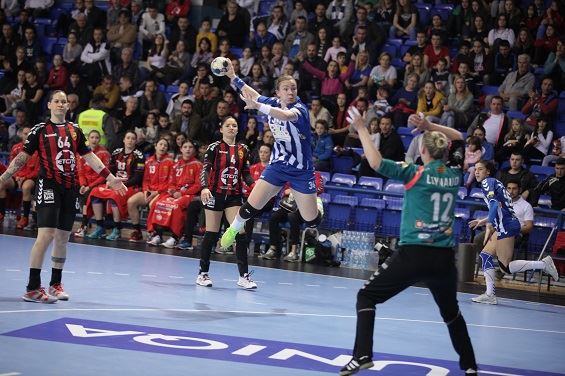 Vardar's Penezic was unstoppable, finishing the game with 10 goals, and while Raicevic had the same impact for Buducnost, her effort had less support from her teammates.

As a result, the Macedonian side led 25:20 10 minutes from full time, and they retained the same five-goal gap to claim their 11th win in 12 matches in the current season – and the second against Buducnost, who they beat 31:24 in the reverse fixture.
Author: Sergey Nikolaev / cg