Generations chat: Dujshebaev and Janc
PGE Vive Kielce coach Talant Dujshebaev has experienced everything the EHF Champions League has had to offer since its inception in 1993, making him the perfect man to give his summer signing Blaz Janc an education on the competition's early days, while they compare and contrast what it is like to be a player in the first and the 25th season of the competition.
Janc: I have no idea when the first season of the EHF Champions League was.
Dujshebaev: Of course you don't, you weren't even born then! But luckily I am a bit older than you. It was at the turn of 1993 and 1994. I had the luck to play in Teka Santander, who won the first edition.
A bit earlier the EHF was born. Beforehand, we only had the international federation, so it was something amazing to have the Champions League. Of course, it looked totally different then, now it's a brand.
Let's go! The 25th season of the #veluxehfcl begins tonight @ 17:15 & all the action is, of course, live on https://t.co/IxekV9snwB pic.twitter.com/y4m1229q8e

— EHF Champions League (@ehfcl) September 14, 2017
Janc: Now it is the toughest league in handball. I am happy I can play in it and could start so early. I was 15 when I scored my first goals in the competition; it was against Hamburg.
Now it is my sixth season, but still I need to learn a lot. I hope it is only a beginning of my career. I achieved nothing so far. I still need to work.
Dujshebaev: What you have done with Celje and the Slovenian national team so far is impressive. I think these were the times, when I heard of you from Uros Zorman. For a long time he was telling me about a young 15-year-old boy, a very talented one, exactly like our Milosz Walach right now, and that I need to pay attention to you. And look, you are not even 20 and you already took part in both world and European championships and in the Olympics. It seems that Uros Zorman was right.
Janc: Well, I heard of you many years ago. You are one of the best centre backs in the world. This was one of the reasons I chose Kielce on my map of development. I had a lot of other options, but I wanted to work with you. I remember I was watching videos of you playing. I was typing "Talant Dujsheabev" into YouTube and watching every video.
Dujshebaev: Well, everyone has their own time. A man should always walk forward without wondering how it was before. I had the luck to be a player in exactly the right time, I probably would not achieve so much if I played nowadays. Current players are so much better prepared physically.
Janc: Yeah, so many things changed. In your times the game was much slower and different. I'm also happy we both have our own times, because now I can work with you.
Dujshebaev: But we, the coaches of senior teams, only continue the job made at grass roots level. We receive such well-formed players, thanks to the job done by coaches who work with the youth. Discipline, tactics, physical preparation – now everything is more professional.
I think until 1997 or even later, even players in the Bundesliga had regular jobs and could train only in the evening, in their spare time. It seems to me, it is much easier to be a professional handball player now.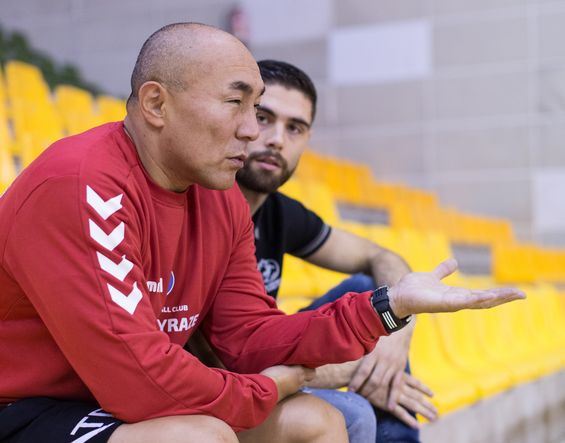 Janc: Sure. Look, now we have cars, easier travelling possibilities, we have different coaches dedicated to different aspects of training. Most importantly, handball became our job, we do not need to worry about earning money through other kinds of work. Of course, handball is more complicated now, more difficult and faster, but it is an advantage for the fans, I am simply happy I can be a part of it.
Dujshebaev: Well, I did not commute in luxury, but I was not such a big star at your age. Thanks to the open borders, we have a mixture of nationalities, more contact and communication between different people; it is beautiful. There are no longer Balkan, Romanian, Russian, German or Danish schools of handball, we mix everything.
Janc: For me it is also a simple possibility to make international friendships, to learn languages and new cultures. After all, handball is not the only thing in our lives. It is amazing that we can make use of the possibilities of modern times.
Author: Magda Pluszewska / cor