Best quotes reflect satisfaction and disappointment
Just finished a match, it is not easy to calmly analyse what has happened in the hour before, without getting overjoyed or angry.

But the players involved in Round 5 of the VELUX EHF Champions League this weekend delivered many quotes which reflected well the performances of their respective teams.

Again we have compiled the five best quotes for you, from the first victory of the season for Motor Zaporozhye to the third narrow defeat for Wacker Thun. And all the emotions in-between.

5. Kentin Mahé, Telekom Veszprém centre back

"This win is a boost psychologically. We played with a completely different system, and it will take some weeks to perfect things, but it is always difficult to win here and we are delighted with what we have achieved."

Veszprém have won both games since coach Ljubomir Vranjes left the club: first in Meshkov Brest, and last weekend in Montpellier (30-29). For sure, Kentin Mahé doesn't take anything for granted as there is still some work left to do. But the points he gained against his French friends will no doubt do a lot of good to the Hungarian heads.

4. Artsiom Kulak, HC Meshkov Brest centre back

"First of all I would like to apologise to the coach for the poor finish of the match. We resisted up to the 40th minute. Then, due to the poor performance in the attack, we started to lag behind and conceded easy goals."

Brest suffered a second home loss in a row after their near-perfect start to the season. If the one against Veszprém two rounds ago was down to an impressive last-second save by Roland Mikler, Artsiom Kulak clearly thinks that the latest against Barça Lassa was the players' fault. So, rare thing, he apologises to his coach. Class move.

3. Reto Friedli, Wacker Thun line player

"These losses just suck. It is the third time we have lost with a difference of one goal. Today we played for all our injured players and I think we did well. But somehow we always use to be asleep in the first 20 minutes."

Reto Friedli was one angry man after Thun's loss to Ademar Leon on Saturday. The Swiss team suffered its third one-goal defeat in a row and it is clearly angering its line player. He wants all teammates to set their alarm clocks at the right time for the next round.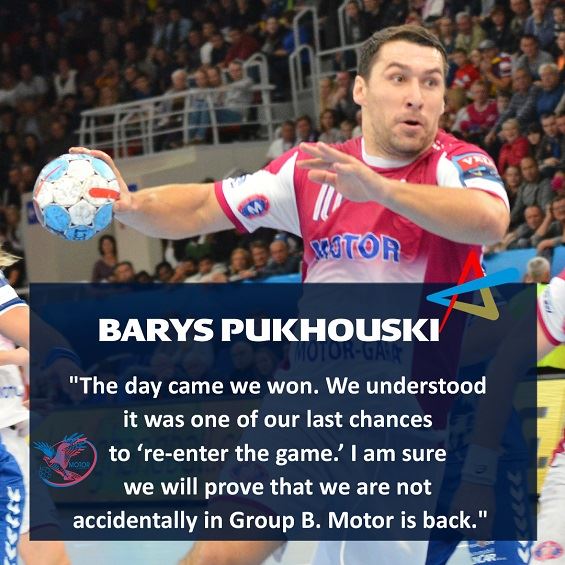 2. Emil Nielsen, Skjern Handbold goalkeeper

"First of all, PSG is maybe the best team in the world, and it is important to remember. Our performance was amazing today, and in my head, we deserved to win, as we fought and gave everything we had today."

After his sensational performance during Sunday's Match of the Week against Paris Saint-Germain, Skjern goalkeeper Emil Nielsen was elected Player of the Match. But, obviously, he would have liked a little bit more than the award.

1. Barys Pukhouski, HC Motor Zaporozhye centre back

"The day came we won. We understood it was one of our last chances to 're-enter the game.' I am sure we will prove that we are not accidentally in Group B. Motor is back."

There was a huge sense of relief in Zaporozhye as they snatched their first victory of the VELUX EHF Champions League season against Zagreb (35:27). The fans had finally something to cheer about and you can expect more of the same from Round 6.
Author: Kevin Domas / ew