Vardar honoured at Ball of Fame
The VELUX EHF FINAL4 2019 champions HC Vardar saw their achievement honoured on Tuesday with the installment of their second glass column at the Ball of Fame in Cologne.
The Macedonian team's victory over Telekom Veszprém in June's final was Vardar's second title in three years after winning the 2017 edition.
Vardar's glass display is the 10th to be installed outside the LANXESS arena in Cologne where the Ball of Fame sits. The permanent eye-catching structure was erected in during the 10th VELUX EHF FINAL4 this year to recognise the past winners of handball's premier European club competition.
The EHF President Michael Wiederer, EHF Secretary General Martin Hausleitner and EHF Marketing Managing Director David Szlezak were joined by Mayor of Cologne, Elfi Scho-Antwerpes and Vardar management at the unveiling of the latest winners' display.
The EHF President, Michael Wiederer, said: "We are in the capital of European club handball and it is exciting just to walk around and remember all the previous winners. This is a special occasion as we honour Vardar for the second time. I would like to thank the LANXESS arena for their support in installing this monument and the city of Cologne for the support given to the tournament for a decade now. I hope that we will see the further editions on this level and that we can install more of these displays in the future."
Mayor of Cologne, Elfi Scho-Antwerpes, said: "I am very happy to see many people gather here for this event, especially representatives of Vardar. The European club handball has found its home here in Cologne and will stay here at least until 2024. I have attended quite a lot of matches in the past 10 years – almost all of them – and it has been top-level handball all the way. I am delighted that handball is available here to the citizens of Cologne on an annual basis. I am really looking forward to unveiling the 10th display of this year's winner."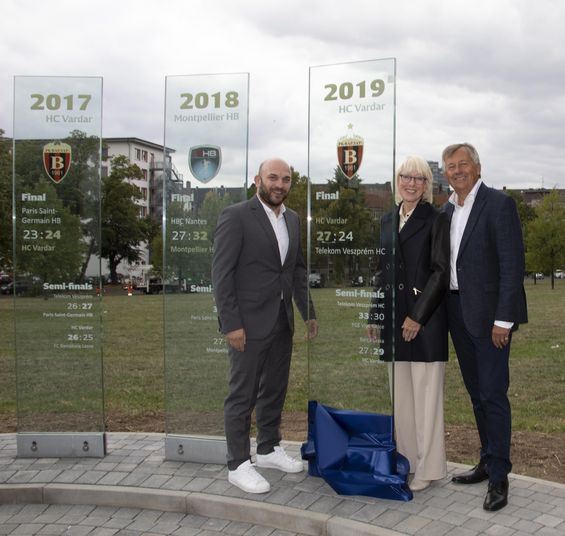 Pictured from left to right: Davor Stojanoski, HC Vardar representative, Elfi Scho-Antwerpes, Mayor of Cologne, Michael Wiederer, EHF President
A reception was held following the column unveiling at the Radisson Blu Hotel, long-term partner of the EHF and EHF Marketing GmbH, which then hosted a workshop involving all 28 clubs participating in the new VELUX EHF Champions League season, signalling the beginning of the new season.
The 2019/20 season kicks off on 11 September with Scandinavian derby between Finish champions Cocks and IK Sävehof. Reigning champions Vardar will begin their defence of their title with a trip to face Montpellier on 14 September.
Author: EHF/jb