Defeat boosts confidence for Viborg
Viborg HK, debutants in the Men's Champions League, gained some self-confidence on Saturday. In spite of losing the test match against MKB Veszprém in London 31-26, the Danish coach was satisfied with the performance and result.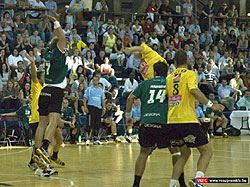 Actually, Viborg were leading in the Crystal Palace National Sports Centre for a long period. It was 14-12 for the Danes at half time against the experienced Hungarian top team.
For almost 45 minutes Viborg were able to match Veszprem physically, and the Hungarians were only able to secure a five-goal win in the final phase of the game.
Happy Viborg coach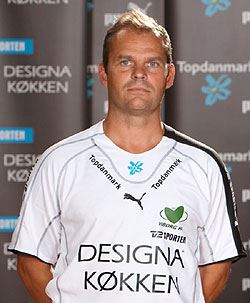 "As long as we played with our strongest team, team, we were able to follow Veszprém, but in the second half I spared some of our players for the Champions League qualifier against Besiktas Istanbul on Wednesday. That was the main reason why Veszprém could win by five," Viborg coach Søren Hildebrand told Eurohandball.com.
"As a matter of fact, I'm a bit annoyed that we lost so clearly at the end, but the match on Wednesday is, of course, more important and I think it gave our players some self confidence after all," Søren Hildebrand added.
Back from injury
Two of Viborg players, Danish internationals Mikkel Aagaard and Per Leegaard, were back again after an injury suffered last week. Right winger Aagaard and right back Leegaard were playing at full strength.
"They both played one half. They could probably have played more, but I did not want to take any risk with Wednesday's match coming up," said Søren Hildebrand. The coach could not count on three young wingers – Stefan Hundstrup, Stefan Nielsen and Jesper Meinhøj – still busy at the U21 World Championship in FYR Macedonia. They will all be available on Wednesday when Viborg will host Besiktas in Viborg's Stadionhal. This game will be the first leg of the Champions League Qualification round.
Mocsai grateful for the supporters
"Our defence has improved and we had a good performance in the pivot position. I think the problem was that we could score only three goals from the backcourt in the first half. We improved for the second half and we are happy to have won in front of 1,000 spectators. There were many Hungarians among them. We thank all the supporters and all the Hungarian fans to have created such an atmosphere," said Veszprém coach, Lajos Mocsai, to www.veszpremkfc.hu after the game.
In fact, the match between Viborg and Veszprém was played to promote handball in Great Britain before the 2012 London Olympic Games.
Photos by courtesy of www.veszpremkfc.hu (unofficial MKB Veszprém website with news, stories, photos and videos).
Author: Peter Bruun