Coaching merry-go-round in full swing
The saying that a coach is as safe as his team's last result holds true in many sports and handball is no different.
When things go wrong, and they usually will at one point, there is always the debate about where to place the blame after a string of bad results. While some pinpoint to the players and their bad influence, others often look toward the coach.
Obviously, there are arguments for both sides, but a team cannot change an entire roster, therefore the axe will usually fall in the direction of the coach.
Three coaching changes this season
There have only been four rounds played in the VELUX EHF Champions League, but the competition is fierce and some clubs feel there is no time to waste after a poor start to the season – which led to three coaches already losing their job.
Celje's Branko Tamse, who was one of the longest serving coaches in the competition, was replaced by Tomaz Ocvirk after only two rounds. Their results have been mixed, an impressive home win against Flensburg, 23:20, followed by a heavy defeat, 33:24, in Szeged.
A round later and another defeat for Veszprém, this time a 27:25 home loss against Vardar, saw Ljubomir Vranjes go after one year and three months. The Hungarian team named David Davis as their new coach on Monday, after bouncing back with a win under interim coach Istvan Gulyas against Meshkov Brest.
Last, but not least, a fourth consecutive defeat was decisive for Patryk Rombel, who was dismissed as Motor Zaporozhye's coach after just over a year in charge.
The coaching merry-go-round is in full swing this season. But how many coaches have suffered the same fate in the last 10 years, since the VELUX EHF FINAL4 was introduced?
Only one in seven coaches has a 10-year streak under their belt
Loyalty is a virtue that is difficult to find in Europe's premier club competition, both by clubs and coaches. There are only four coaches who have served their teams for ten consecutive years in this year's VELUX EHF Champions League.
The longest-serving coach is Montpellier's Patrice Canayer, who has been at the French club for 25 years.
The 57-year old coach won the VELUX EHF Champions League twice, including a shock win last season, 14 French titles and 13 French Cups and has been a staple of consistency, as the entire history of the French side practically merges with Canayer's career.
Chekhovskie Medvedi's Vladimir Maximov also goes into the record books as the only coach to serve for the Russian bears, since 2001, when the team was founded.
Besiktas' Mufit Arin (17 years) and Thun's Martin Rubin (10) are the only other coaches to have coached their teams throughout the past ten years, irrespective of their performances both in their domestic leagues and in the European competitions.
Barça Lassa have also been relying on a staple of consistency in Xavier Pascual, the coach that brought the Catalan side two titles in the VELUX EHF Champions League, in 2011 and 2015, since he took charge in 2009.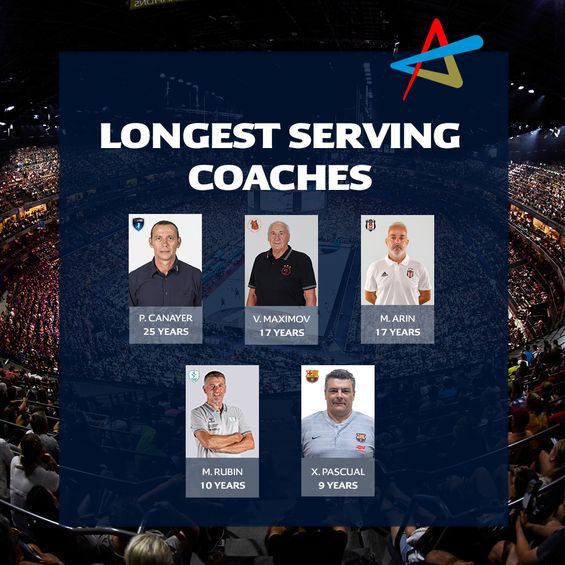 Who are the most prone to change?
The 28 teams that take part in the VELUX EHF Champions League have changed their coach 106 times in the past ten years, for an average of 3.75 coaches changed per team or 10.5 coaches changed per year.
HC PPD Zagreb have the longest list of changes, with no fewer than ten in the past ten years. Although Andrija Nikolic and Slavko Goluza have only served as interim coaches, the Croatian side has always been in constant change. Lino Cervar has come back from HC Metalurg this summer, as the Croatian veteran has been the longest serving coach for Zagreb in the past 20 years, staying put from 2004 to 2009 in his previous stint.
Polish team Orlen Wisla Plock have won only one league title in the past ten years and their best performance in the VELUX EHF Champions League was a Last 16 berth four times over the last decade, but they changed eight coaches during this span. Lars Walther (2010-2013) and Manuel Cadenas (2013-2016) stayed for three seasons, while Spanish coach Xavi Sabate has taken the reins this season.
Dinamo Bucuresti and TATRAN Presov have also been in constant change over the past ten years, with seven coaching changes, while Meshkov Brest and Motor Zaporozhye replaced their trainer six times.
Former title holders HC Vardar have also changed six coaches in the aforementioned time span, but found stability when they appointed Raul Gonzalez in 2014. The Spanish coach left for PSG this season, but was swiftly replaced by another Spanish ace, Roberto Garcia Parrondo, who has led his team on a four-game winning streak.
Newcomer David Davis is Veszprém's sixth coach in the last decade, as he follows in the footsteps of Lajos Mocsai (2007-2012), Carlos Ortega (2012-2015), Xavi Sabate (2015-2017) and Ljubomir Vranjes. Istvan Gulyas, who is set to continue as a sporting director after Davis' appointment, oversaw Veszprém's win against Brest last week.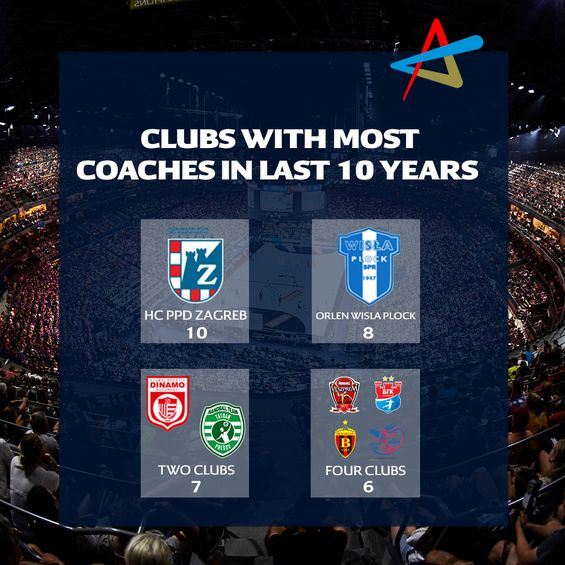 Author: Bela Muller, Adrian Costeiu / cor