Paris win yet another thriller against Flensburg
After Barça's win against Aalborg on Saturday, Paris Saint-Germain HB had to take the two points against SG Flensburg-Handewitt in order to remain level on points at the top of group A with Barça in the VELUX EHF Champions League. The French side faced a stern test against Flensburg, but emerged with the two points after a two-goal win.
Elsewhere, MOL-Pick Szeged claimed an away win against Elverum Handball, although they had to hold off a second half comeback from the Norwegian side, who remain without a win in group A.
Sander Sagosen and Mikkel Hansen score seven goals each for PSG, while three players netted five times for Flensburg
Nedim Remili did not return after injuring his ankle in the first 10 minutes
PSG (second) join Barça on 14 points, Szeged are third with 13 points, while Flensburg remain fifth with seven points
Lukas Sandell top-scored for Elverum with 10 goals, while Jorge Maqueda netted six times for Szeged
GROUP A
Paris Saint-Germain HB (FRA) vs SG Flensburg-Handewitt (GER) 32:30 (17:16)

If PSG had had to wait until the final seconds to lift their hands up to celebrate in Flensburg in round 7, the pattern remained the same on Sunday in the second match between the sides.
Both teams played neck-and-neck for 60 minutes, and it was only a couple of details that turned things turn the hosts' way in the end. Things did not look too good, though, as Nedim Remili injured his ankle in the first 10 minutes, which forced PSG to play with three left-handers in the back court.
Neither team took more than a two-goal advantage in the first half. Nikola Karabatic and Mikkel Hansen's goals towards the end of the first half were vital for PSG, but Michal Jurecki and Simon Jeppsson ensured that the margin was only one goal, 17:16, at the break.

Things did not change much in the second half – at least until the last 10 minutes. That was the point where Vincent Gérard entered the court and went between the posts for Paris – and with four consecutive saves, he turned things around for Paris.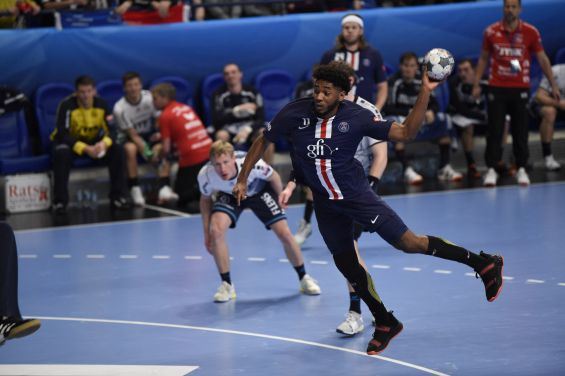 In the meantime, Sander Sagosen took the reins for PSG, scoring three in a row in the money time, meaning the French side momentarily took a three-goal advantage with a few minutes left to play.
That was not the end of the thriller, however, as Marius Steinhauser brought his team within one with 10 seconds to play. But after a timeout and a Dylan Nahi goal, Paris could celebrate their victory, 32:30.

Despite the loss, Flensburg's coach Maik Machulla was still happy with what he saw on the court from his team. He said: "Against Paris, you have to play perfectly, and we weren't, especially in the end of the game. But despite that, we played level with this amazing handball team and we have to be proud of that."
On the other side, Raul Gonzalez praised his opponents "fast playing systems which caused us a lot of trouble. We changed the defence after the break and I think that's what got us the win."
Elverum Handball (NOR) vs MOL-Pick Szeged (HUN) 25:26 (9:14)
Thanks to early saves from Mirko Alilovic and fast breaks led by Dmitry Zhitnikov, Szeged were the first to take the advantage in the game, holding an early four-goal advantage (1:5).
Despite Sebastian Henneberg and Sigvaldi Gudjonsson scoring a couple of goals for the hosts, Szeged were never really threatened as their defence held their performance together. Szeged only conceded nine goals in the first half, and Bence Banhidi's third goal just before the siren gave them a five-goal lead at half-time.
Heading into the second half, Szeged only had to maintain their advantage until the final siren. For most of the second half with the help of back court players Jorge Maqueda and Richard Bodo, they did. In the 51st minute, the Spanish right back scored his third goal – and his team were up by six.
With Szeged heading towards a clear victory, a timeout for the hosts almost turned things around. Lukas Sandell, the game's best scorer with 10, netted twice within a minute and, while the visitors committed turnovers, Elverum were closing in – the Norwegian side even came back to within one with two minutes left.
But the Hungarian side, with all its experience, did not panic, and Maqueda scored twice again to give Szeged a one-goal victory, 26:25.
"Elverum really fought until the end tonight, and it was very difficult for us to win here," said Szeged coach Juan Carlos Pastor.
Elverum coach Michael Apelgren said that Szeged took a "deserved victory." He added: "It is very developing for us to play against these kind of teams. They not only have good players; thay also play tactically very clever.
Author: Kevin Domas / jw