Brest book Last 16 ticket, Kielce break Kiel's winning streak
Thanks to 10 goals from Petar Djordjic, HC Meshkov Brest started a huge party on Saturday: The Belarusian champions clinched their berth in the VELUX EHF Champions League Last 16 by way of a 29:28 win against Paris Saint-Germain Handball. Thus, RK Celje Pivovarna Lasko's 32:28 victory against Aalborg was without any significance, as both teams were eliminated from the race for the Last 16 when Meshkov beat PSG.

On the other hand, THW Kiel lost the chance to step into second position in Group B when they were defeated at home by PGE Vive Kielce.

• Brest make it to the Last 16 for the third straight season
• After eight consecutive wins, PSG lose their first group match in four months
• Kielce's victory at Sparkassen-Arena ends Kiel's series of five straight Champions League victories
• Mackovsek nets eight in Celje's third, but meaningless, win of the season

GROUP B
THW Kiel (GER) vs PGE Vive Kielce (POL) 29:30 (17:16)

Two missed penalties in the final stages, both of which were saved by Kielce's veteran goalkeeper Slawomir Szmal, stood in Kiel's way as they aimed to take second position and their sixth straight Champions League win on Saturday evening. In a true thriller, Kielce were ahead for most of the second half, and were lucky to take their fifth win of the season.

"A weak period at the start of the second half was crucial, but we showed morale, fought back – however, we were not lucky enough to score from the penalty line," said THW sports director Victor Szilagyi. "We are truly disappointed."

The first half was equal – one side pulled ahead by two goals only three times, and there was never a score line of more than three goals. The lead constantly alternated between the teams, as both sides focused much more on attack than defence before the break, netting a nearly equal percentage of shots (67 per cent vs 68 per cent). At half-time, the score board showed a close lead for THW.

Kielce start second half strong

Kielce had an efficient start when the match resumed. Thanks to four straight goals, from 17:18 to 21:18, coach Talant Dujshebaev's team quietened Sparkassen-Arena. As Kielce forged ahead to 24:19 after an 8:2 series in the first 10 minutes of the second half, Kiel coach Alfred Gislason was forced to use his time-out card.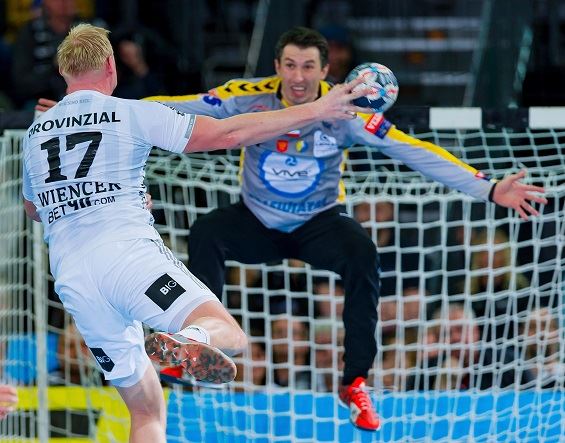 The Icelandic-born coach found the right words, and it was mainly THW line player Patrick Wiencek who made use of them, as his strikes gave Kiel the confidence they needed.

It was now Kielce who were below par, and Kiel reduced the gap goal by goal. With a double strike that took his individual tally to eight, Wiencek was responsible for the next equaliser at 26:26.

From that moment on, the match could have gone either way, but Kiel did not manage to take the lead, while Kielce decided the encounter at 30:28.

"I'm very happy because it's difficult to win a Champions League match in Kiel," said Kielce coach Dujshebaev. "We played very well, but Kiel had a lot of problems with injuries. [Steffen] Weinhold played a strong match, that he couldn't come back was an advantage for us. It gaves us power that we started with a five-goal lead after a few minutes of the second half."

HC Meshkov Brest (BLR) vs Paris Saint-Germain Handball (FRA) 29:28 (19:13)

A draw would have been enough for Brest to reach the next stage, but fans in the sold-out Victorija Arena were able to celebrate a historic win for Meshkov. After a weak restart to the Champions League (a draw against Aalborg and a huge defeat at Veszprém) following the EURO break, the Belarusian champion struck back, ending PSG's winning run and booking a ticket for the Last 16.

As Paris had already achieved their first goal of skipping the Last 16 as winners of Group B, the French side did not give all they had in Belarus. On the other hand, Brest knew that they had a chance thanks to PSG's situation on the table and the fact that the visitors had to replace their top scorers, Uwe Gensheimer and Mikkel Hansen.
"As the match developed, it was visible that the opponent needed points from this match much more than us. In the first half we tried to play 5-1 in the defence. It didn't always come off well. This actually caused the negative gap in the score line for us," said PSG coach Staffan Olsson. "In the second half me made changes to our tactics, and it allowed us to make a comeback and equalise the match. In the second half, we felt more comfortable on the pitch, and I am pleased with the team's moves in the second half.

"Still, too much was at stake for the hosts. This is why, in certain episodes, they demonstrated more will, desire and strived more to win. I am pleased indeed with the second half. As for the final minutes of the match, this is sport. Whatever the scenarios are we have secured first place in the group."

Meshkov open with commanding 7:1 run

Boosted by their fans, Meshkov had an impressive start with a 4:0 advantage, then 7:1 at the 10-minute mark. After 18 minutes, the score board showed a sensational 12:4, and Serbian left back Petar Djordjic was on fire.

Intermediately, PSG heard the wake-up call and reduced the gap to 9:16, but after a time-out called by their coach Sergey Bebeshko, Brest were back on track. Thanks to seven strikes from Djordjic and a series of saves from Croatian goalkeeper Ivan Pesic, the hosts took a well-deserved 19:13 advantage to the locker room.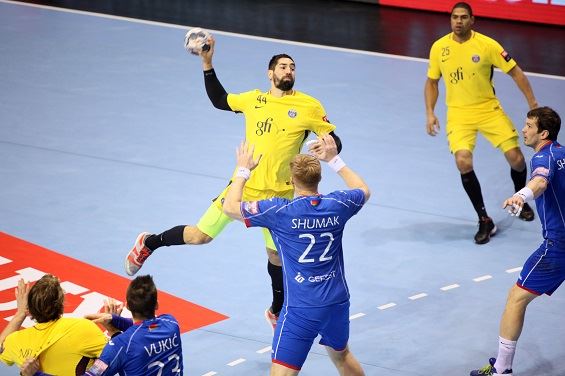 But everything changed after the 21:15 in favour of the hosts in minute 34: Steered by right wing Luc Abalo and backed by an improvement in defence, Paris became more dangerous. Brest worked hard but could not stop the PSG goal machine. Within 12 minutes, the visitors had turned the six-goal deficit into a two-goal advantage at 24:22, while Brest had lost their rhythm completely.

Boosted by Pesic, Brest came back, and scored the last two goals after the 27:28 as Ljubo Vukic and Djordjic, with his 10th goal, secured the win.

RK Celje Pivovarna Lasko (SLO) vs Aalborg Handbold (DEN) 32:28 (15:12)

It was a victory for the statistics and the confidence, but without relevance: After Brest had beaten PSG, both Celje and Aalborg were eliminated from the Last 16 before throw-off in their direct duel. For Celje, it was the third win in this season.

On the other hand, Aalborg will finish the VELUX EHF Champions League 2017/18 without any away victories. The draw in Brest was the only positive outcome off their home court for the Danish champions, aside from six defeats – and the duel in Celje was their last away match in the group phase.

The hosts were ahead from the first to the last minute, with an efficient start (7:3, 10:5) forming the base for the win. After Aalborg's strongest period, in which they intermediately levelled the result at 11:11, Celje pulled the momentum back onto their side to finish the first half with a 4:1 series and a 15:12 advance.

Nothing changed after the break, as Celje held a constant and comfortable lead. When Jaka Malus netted for 31:27, the deal was sealed.

"I have a lot of respect for Danish handball and after today it will be no different. We have managed to improve some things that were not good last matches," said Celje coach Branko Tamse. "We did very well against the great Danish seven-on-six play, where our defence did a great job and we also managed to keep control of the match throughout, even though we had some ups and downs. At the end, I think it was a well-deserved win for us."

Celje's top scorers were Borut Mackovsek with eight goals and Ziga Mlakar, with six, while Magnus Saugstrup Jensen contributed five for the visitors.
Author: Björn Pazen / cg