Coaches full of praise for PSG's players and Veszprem's atmosphere
With the 25th anniversary season of the VELUX EHF Champions League underway, ehfCL.com asked the coaches of all group phase participants to name their "dream team" selection, alongside the top coach and arena with the best atmosphere.
Last season's selection defended six of seven positions, with the only newcomer being Arpad Sterbik between the posts.
In four positions, Paris Saint-Germain players received the highest number of votes, with Telekom Veszprém, HC Vardar and PGE Vive Kielce adding a player each.
Vardar's coach Raul Gonzalez was a clear winner in the best coach category, while Veszprém Arena retains its place atop the arena ranking.
Each coach was asked to choose their top player for each position, except players from his own squad, name their three favourite coaches and the best arena.
Goalkeeper
Last year, Niklas Landin was number one of the number ones, but has been leapfrogged by Arpad Sterbik this time around. This is thanks to his outstanding performances at the VELUX EHF FINAL4, where he helped HC Vardar to their first title.
Below Sterbik, compatriot Gonzalo Perez de Vargas ranks second, ahead of Landin. Thierry Omeyer (PSG) and Andreas Wolff (Kiel) narrowly missed out on a spot among the top three.
15 votes: Arpad Sterbik (Vardar)
5: Gonzalo Perez de Vargas (Barcelona)
4: Niklas Landin (Kiel)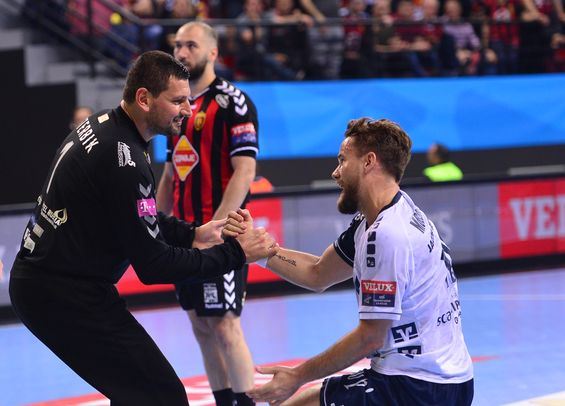 Left wing
No other player received as many votes as German international Uwe Gensheimer, last season's top scorer with 115 goals. Below the PSG star, a highly experienced trio filled the remaining positions.
18: Uwe Gensheimer (PSG)
4: Timur Dibirov (Vardar)
2: Gudjon Valur Sigurdsson (Rhein-Neckar Löwen), Jonas Källman (Szeged)
Left back
Seven players were mentioned by the coaches in this position, but PSG's Danish superstar Mikkel Hansen stood out and held onto top spot. However, he will have to look over his shoulder as new teammate Sander Sagosen, who arrived from Aalborg this summer, was included in joint-second.
12: Mikkel Hansen (PSG)
2: Momir Ilic (Veszprém), Sander Sagosen (PSG), Wael Jallouz (Barcelona)
Centre back
The current IHF World Handball Player of the Year held onto, but Aron Palmarsson was not far behind, despite the fact he is not listed in Veszprém's squad for the opening five rounds.
Vardar's centre back Luca Cindric completes the top three after his heroics in June, ahead of four more players who were named by the coaches.
12: Nikola Karabatic (PSG)
9: Aron Palmarsson (Veszprém)
7: Luca Cindric (Vardar)
Right back
For the third year in a row, Laszlo Nagy is top of the right backs. Veszprém's team captain managed to stay ahead of young guns Nedim Remili and Alex Dujshebaev. Holger Glandorf and Kiril Lazarov were among the six players also recognised.
8: Laszlo Nagy (Veszprém)
4: Nedim Remili (PSG), Alex Dujshebaev (Kielce)
Right wing
It was a close call between last season's pick Luc Abalo, Barcelona captain Victor Tomas and Ivan Cupic, who managed to be the first player since 2009 to defend win the competition twice in a row (2016 with Kielce, 2017 with Vardar). Kielce's new arrival Blaz Janc joins Cupic in third following a brilliant season at Celje.
7: Luc Abalo (PSG)
6: Victor Tomas (Barcelona)
4: Ivan Cupic (Vardar), Blaz Janc (Kielce)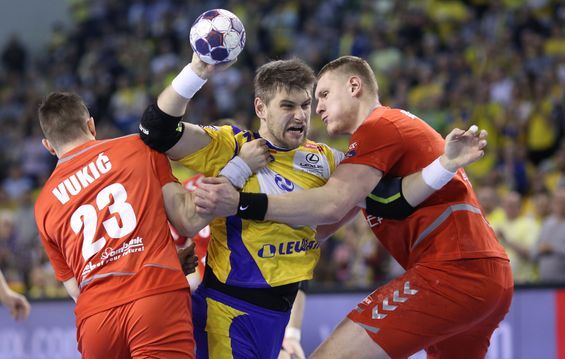 Line player
This was by far the most congested list in the vote, with 12 players selected by the coaches. Kielce's Julen Aguinagalde retains his position at the top, followed by 20-year-old world champion Ludovic Fabregas of Montpellier.
7: Julen Aguinagalde (Kielce)
5: Ludovic Fabregas (Montpellier)
2: Bjarte Myrhol (Skjern), Patrick Wiencek (Kiel), Cedric Sorhaindo (Barcelona)
Coach
Ahead of the 2016/17 season, Raul Gonzales was in third position, but the Spaniard's stock has risen greatly after steering Vardar to VELUX EHF Champions League glory.
Like in the previous year, Ljubomir Vranjes (now Veszprem) is second ranked ahead of three more Spaniards (Pascual, Dujshebaev, Pastor) and Alfred Gislason.
20: Raul Gonzalez (Vardar)
9: Ljubomir Vranjes (Veszprém)
8: Xavi Pascual (Barcelona)
Arena:
For the third time in three years, the coaches' choice for the arena with the best atmosphere is Veszprem Arena, followed by the home venues of THW Kiel and HC Vardar. Kielce, Nantes, Flensburg, Barcelona and Montpellier also got some love.
12: Veszprem Arena (Veszprem)
8: Sparkassen Arena (Kiel)
7: Jane Sandanski Arena (Skopje)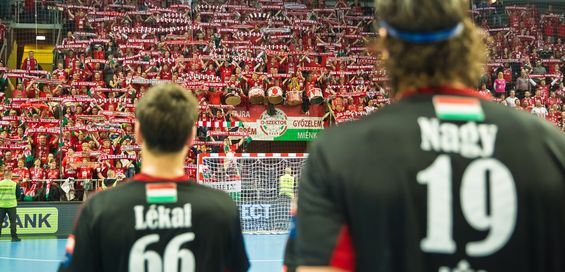 Author: Björn Pazen / cor