The champions' return: gold is the new 'Red and black'
It has been two days since handball delirium claimed the new VELUX EHF Champions League winners' entire home country, and FYR Macedonia is united as the nation celebrates HC Vardar's historic achievement in Cologne.

Pictures of fans wearing their 'red and black' jerseys and scarfs are now the most common sight on every corner of the country, as handball is the number one sport among Macedonians.

The FINAL4 trophy is the topic of every single conversation in the small country, who celebrated the first Champions League trophy for a Macedonian men's team when Vardar won the thrilling final against PSG with a last-second goal from Ivan Cupic on Sunday.

Macedonians have waited for this moment for 15 years, since Kometal Gjorce Petrov won the Champions League in the women's competition in 2002. They are now the third country after Spain and Slovenia to have claimed both the men's and women's EHF Champions League titles, but Skopje is the first city to have achieved the feat.

The national heroes arrived in Skopje on Tuesday afternoon and the view at Alexander the Great Airport was amazing.

Vardar's arrival on a work day did not stop their devoted fans from greeting them at the airport to throw a warm, welcoming celebration. When the players exited the terminal, 5,000 waiting supporters shouted "champions, champions!"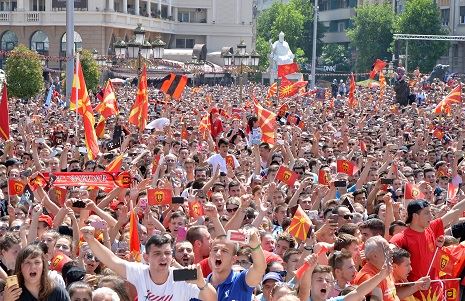 The wild atmosphere created by the 'red-black' army extended from the airport with a specially designed bus straight to the city centre, with a crowd of 150,0000 lining the route and waiting at the main square for the freshly crowded winners of the Champions League.

The players went through the triumphal arch 'Porta Macedonia' and entered the stage positioned in the city's main square, as the crowd chanted "Vardar Champions!" for many hours.

One by one, Vardar's players went on stage to make a speech, and the last emotional address came from captain of the team Stojanche Stoilov.

"We deserved this, Macedonia deserved this trophy. You should all be proud of this team. I'm proud that I'm captain of this team. I'm proud that I'm part of this history that my team, Vardar – the new European champions – wrote," said Stoilov.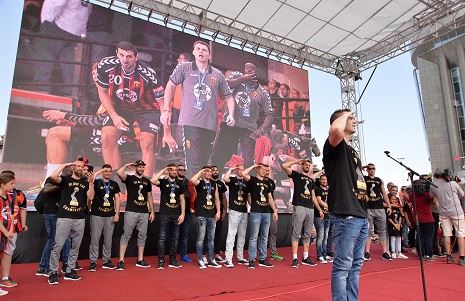 Vardar are playing their last match of the domestic league on Wednesday at Jane Sandanski Arena, which means that the party will not end on Tuesday.

After the last match, Vardar will be awarded their fourth trophy of the 2016/17 season. In addition, the president of the republic Gjorge Ivanov has decided to award the members of the handball club with the "Medal of Merit for Macedonia."
Photo: Denis Dukovski
Author: Amina Idrizi / cg