Dominant Vardar take second win; stunning comeback powers Kielce past Löwen
It was not a game for the faint-hearted, yet it was brilliant and thrilling handball, with five lead changes, unanswered runs and fantastic goals, as PGE Vive Kielce snatched their first win of the VELUX EHF Champions League 2018/19 season on Saturday night against Rhein-Neckar Löwen.

In their season opener versus Barça Lassa, Löwen saw their six-goal lead obliterated only to win by the slightest of margins. On Saturday, the German champions failed to protect a three-goal advantage with six minutes to go, and a 6:0 run from the Polish side helped them win their first game of the season.

While Vardar jumped to their second victory, 33:25, against Kristianstad earlier on Saturday evening, another clash of the titans went Barça's way, as the Spanish side dominated the game against Telekom Veszprém, 31:28.

• Vardar are looking to start their fifth consecutive season with three wins in a row, after disposing of Kristianstad, 33:25
• Barça continue to dominate the mutual encounters against Veszprém, taking their 14th win from 19 games between the two sides
• Löwen score only one goal in the last 10 minutes, as Kielce turn a three-goal deficit into a four-goal victory
• Veterans Alexander Petersson and Andy Schmid score eight times apiece for Löwen, but cannot prevent the loss

GROUP A
HC Vardar (MKD) vs IFK Kristianstad (SWE) 33:25 (19:10)

After an impressive performance last Saturday, when they defeated current title holders Montpellier, Vardar picked up where they left off and cruised to a 6:0 lead over their Swedish visitors after only five minutes.

While he may have lost his form in the second part of the last season, Montenegrin sharpshooter Vuko Borozan was back, inspiring Vardar with three goals in the span of 65 seconds.

There was more where that came from, as Vardar's impressive offensive prowess worked wonders against an underwhelming Kristianstad defence. Coach Roberto Garcia Parrondo's side had an otherworldly 93% shot efficiency, and were comfortably in command, 15:5, after 21 minutes.
"After the win in Montpellier, we started preparation for this match. We knew that Kristianstad play very fast handball, especially in transition, and we were well prepared today," said Vardar goalkeeper Dejan Milosavljev. "This game was more important than the one in Montpellier because we didn't want to disappoint our fans. As our coach Parrondo said: all of us gave their best from the beginning until the end. We played a superb game and our goal is to continue that rhythm this season."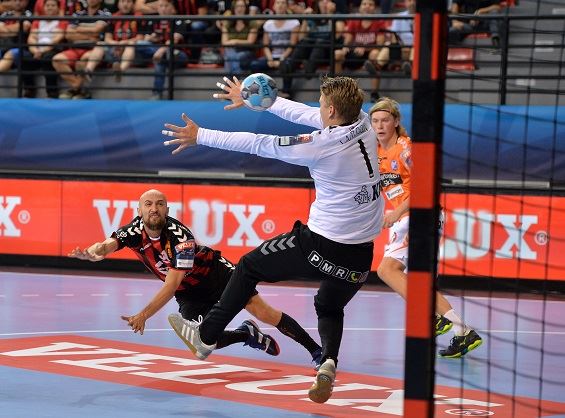 There was little Kristianstad could do to ease the pain and Vardar's superior experience was enough to see the Macedonian side grab another win. Every mistake made by the Swedish team was swiftly punished by the VELUX EHF Champions League 2016/17 winners – especially with their fast breaks, which led to Croatian wing Ivan Cupic becoming Vardar's top scorer, with seven goals.

While it may not have been Vardar's biggest win in the top European competition – which came against Kristianstad last season, 31:15 – the Macedonian side enjoyed a 33:25 victory and Garcia Parrondo was able to give his stars a rest in the second half.

Vardar will be looking at their third win of the season – which would make it five seasons in a row with such a start for the Macedonian champions – against Veszprém next week, while Kristianstad hope to earn their first points on the home court when they host Barça Lassa.
Barça Lassa (ESP) vs Telekom Veszprém HC (HUN) 31:28 (17:14)

It was a throwback to the old days when Laszlo Nagy was scoring for fun in a Blaugrana shirt, as the Hungarian veteran opened his account in the first minute of the game between his former team and his current club, Veszprém.

But the good vibes were quickly erased from Nagy's mind, as Barça bounced back and engineered a 4:0 run to take a commanding lead, with the Spanish side firing from all cylinders.

There were memories from last year's Veszprém, with inconsistency plaguing the Hungarian powerhouse, yet Ljubomir Vranjes' side clawed their way back thanks to an impressive game from French playmaker Kentin Mahe and a solid effort from Slovenian winger Dragan Gajic.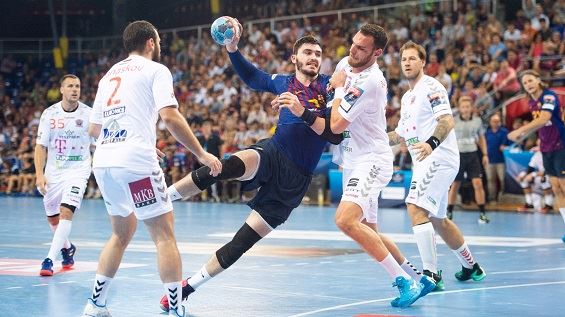 Veszprém even turned the game on its head, 7:6, but after five lead changes, Barça had the upper hand to end the first half thanks to a four-goal outing from Danish left wing Casper Ulrich Mortensen.

A superb second half from up-and-coming French talent Dika Mem helped the hosts keep Veszprém at bay, as the 21-year-old right back scored three consecutive goals to open a four-goal gap, 23:19. Veszprém simply did not look powerful enough to stop Barcelona, who ran riot as they raced to their first points of the season.
"Today I think it was a great game in Palau for everybody, with the addition of Veszprém's fans to give colour to Palau and create a great atmosphere," said Barça coach Xavi Pascual. "We played a hard game against a great team. I am very happy with my team, because we believed in our job, we defended 5-1 very aggressively. We are in the good way, but we need to work more, because we made some mistakes that we can improve fast."

Barça will travel to Kristianstad next week, while Veszprém are back in their arena, where they host Vardar.

PGE Vive Kielce (POL) vs Rhein-Neckar Löwen (GER) 35:32 (17:17)

A flurry of injuries that lapped over internal trouble made for an awkward start for PGE Vive Kielce, as the Polish powerhouse's ambitions were hindered early in the season.

While Croatian superstar Luka Cindric was back in his usual role as the creative playmaker after a muscular injury, he could not prevent a flawless start from the German champions. With veteran right back Alexander Petersson in superb form, Löwen jumped to a 9:4 lead, as the Polish side's defence had no answer for their opponents.

However, it was more of a question as to when Kielce's attack would wake up, and when it did, it duly delivered. With a 7:2 run spurred by Cindric and Krzysztof Lijewski, the Polish side tied the game, 12:12, after 21 minutes.

The teams engaged in a high-octane shoot-out, with even the underwhelmed Kielce side, who only had 13 players on the scoresheet, boasting 10 different scorers in the first 30 minutes – but the deadlock was still to be broken at the break.

It looked to be a totally different story in the second half, as Kielce opened their account with a 3:0 run that left Löwen coach Nikolaj Jacobsen looking for a solution. There was no magic wand in the Legionow Hall, but Löwen did manage to come back thanks to Petersson and Andre Schmid's powerful shots, levelling the game, 21:21, with 20 minutes to go.

After another two lead changes, it was Löwen who appeared stronger and on the way to avenging their loss against Kielce in the Last 16 phase last season, as they jumped to a 30:27 lead. But an unexpected Löwen meltdown, despite a timeout called by coach Nikolaj Jacobsen, sealed the deal for the hosts.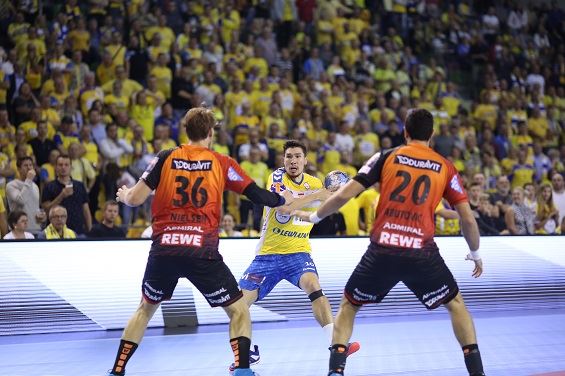 A 6:0 run, spurred by an excellent Alex Dujshebaev, saw Kielce create a 33:30 advantage and never look back, while Löwen struggled to understand what had gone wrong.
"It was a very good match played on a very high level and with a huge speed. I think we made too many mistakes in the end of both halves. That's why we lost today," said Löwen coach Jacobsen.
Author: Adrian Costeiu / cg