Löwen hand Montpellier painful sixth defeat
The euphoria of winning the VELUX EHF FINAL 4 had quickly died down for Montpellier, who hold the record for the worst ever start to a new season for a title holder.
But things were about to get worse for the French side, who failed to contain the Löwen in their seventh consecutive game without a win, a new unwanted record in the premier European competition.
The German side maintained their 100% record on their home court, earning their fourth win
Löwen won four of their last five games, tying with Vardar and Barça Lassa on top of the group
Gudjon Valur Sigurdsson was the best scorer of the game, with 11 goals
GROUP A
Rhein-Neckar Löwen (GER) vs Montpellier HB (FRA) 37:27 (16:13)
It is normal for the Löwen to find excellent passes to the line player Jannik Kohlbacher in the first minutes of the game and that was exactly their game plan against Montpellier, which allowed the hosts to take an early 4:1 lead.
Four goals from Kohlbacher and a 25% shot efficiency from Montpellier boosted the Löwen's chances, as they enjoyed a 10:5 lead after 16 minutes, with the French side failing to find ways to score.
But four goals by Melvyn Richardson in six minutes saw a French resurgence, with Montpellier cutting the gap to 14:12.
However, there was no slowing down one of the best attacks in the competition. A good defence, a flurry of fast breaks and offensive efficiency prompted the Lions to enjoy a comfortable 27:20 lead with 17 minutes to spare.
Ultimately, a stellar performance from 39-year old Gudjon Valur Sigurdsson, who scored 11 goals, saw the hosts take their most commanding win of the season, 37:27, tying with Barça Lassa and Vardar at the top of the group.
Montpellier are still winless and tied with Kristianstad for the seventh place in the group, with their chances of progressing to the next phase looking slimmer as the rounds pass.
Nicolaj Jacobsen noted his team's enjoyment of playing in the Champions League: "What can I say when you win against the champion by 10 goals? The win in Veszprem last weekend helped us a lot. The team has a good feeling now and enjoys playing the Champions League. We hope for another good game next week in France."
Montpellier head coach Patrice Canayer praised his team's opponents: "Löwen showed that they are in a very good shape. We have one week to learn and improve and want to give them a better and closer game in Montpellier next week."
The two sides will meet again in exactly one week in the reverse game.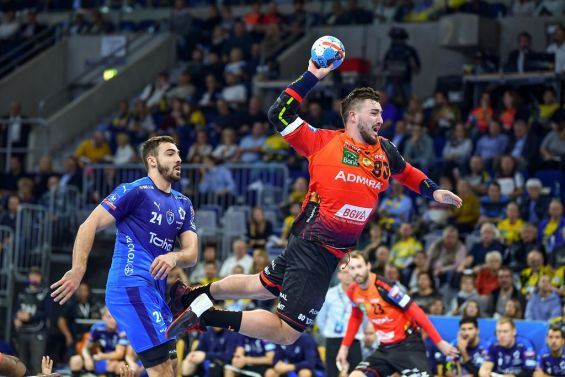 Author: Adrian Costeiu /at