Which club has the best bench?
Coming fresh off the bench, substitutes can give a team the edge or cause a turnaround in a difficult phase of a match. Here are the five VELUX EHF Champions League teams with the best bench:

5. MOL-Pick Szeged

Though José Manuel Sierra, Thiagus dos Santos, Stas Skube and Sergei Gorbok decided to leave the club, Szeged will be just as strong as they were before – or even stronger. The Hungarian team welcomed Vardar's Jorge Maqueda and Joan Canellas, and with Veszprém's hero, Mirko Alilovic, and ex-Szeged player Dean Bombac on their bench, this team has a bright future ahead.

4. Rhein-Neckar Löwen

After the repositioning of Vardar, Rhein-Neckar Löwen picked Ilija Abutovic as the new pillar of their defence, together with Jesper Nielsen, acquired from PSG. Löwen will for sure cause some unpleasant moments to their opponents this season. Nikolaj Jacobsen and his team have proved several times that with real teamwork and fast handball they can defeat anyone.

3. Telekom Veszprém HC

Ljubomir Vranjes brought sharp changes to the Hungarian club. Veszprém said farewell to four of their long-time key players and strengthened the team with some of Europe's best players. With the arrival of Borut Mackovsek, Manuel Strlek, Kentin Mahé, René Toft Hansen and Arpad Sterbik, Veszprém truly have one of the strongest rosters in the VELUX EHF Champions League. Including one of the strongest benches.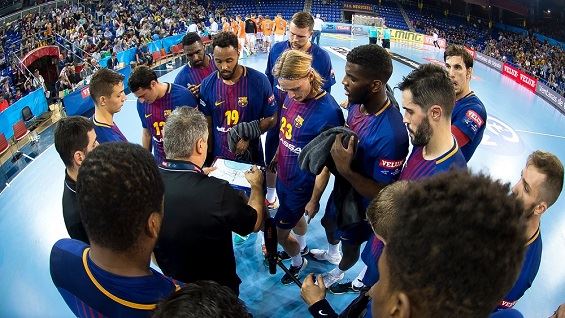 2. Barça Lassa

Barça have always something to show off before the season. The Catalan team decided to refresh its goalkeeping as this time the brilliant Pérez de Vargas will share it with Kevin Møller. Even though Viran Morros' leave hurt Barça fans' hearts, the duo of Thiagus dos Santos and Ludovic Fabregas will probably totally fill this gap thanks to their talent and diligence. With Olympic gold medallist Casper Mortensen and Plock's top scoring Gilberto Duarte, the team has been completed and is waiting for Xavi Pascual's guidance.

1. Paris Saint-Germain HB

With the arrival of Raúl Gonzalez we can expect an even stronger star-filled PSG than ever before - on court and on the bench. Although some of their defence specialists left the club, Henrik Toft Hansen and Viran Morros will likely fill the void, being one of the best line and defence players of this year's VELUX EHF Champions League. Paris lost one of his stars in Daniel Narcisse but Kim Ekdahl du Rietz is ready to prove he fits in this world-famous bunch.
Author: Bela Müller / ew