Montpellier finish off in style against Brest
Montpellier's superb ending to the game against Meshkov Brest earned them their first win of the VELUX EHF Champions League group phase. Brest led until the 52nd minute of the game against Montpellier, but they failed to properly execute at the end of the match, allowing the French side to finish off Brest with a 9:5 run and claim a 27:25 win.
The French side are now back in contention for progression to the Last 16 phase after losing in round 1 against Vardar on home court, while Brest are seventh, with two losses from two games.
In round 1, Brest also led in the first half against Porto, but collapsed in the second half
With six goals scored, Serbian right wing Darko Djukic is back in the first place at the top goalscorers' list
Melvyn Richardson (6 goals) and Valentin Porte (5 goals), Montpellier's two backs, were the top scorers for the French side
Montpellier host Veszprem next week, while Brest need to beat Kiel to stop their losing streak
GROUP B
HC Meshkov Brest (BLR) vs Montpellier HB (FRA) 25:27 (13:12)
Since winning the VELUX EHF Champions League two seasons ago, Montpellier had only managed three wins from 15 matches in Europe's top competition.

Last season, the French side failed to progress from the group phase after losing their first two games against Vardar and Meshkov Brest. After Vardar conquered the Palais des Sports Rene Bougnol in round 1, Montpellier were trying to prevent exactly the same scenario from happening again.

There were four lead changes in the first ten minutes until Brest took the first two-goal lead in the 14th minute, through Darko Djukic's fourth goal, as the Serbian right wing was trying to consolidate his lead at the of the goalscorers' ranking in Europe's top competition.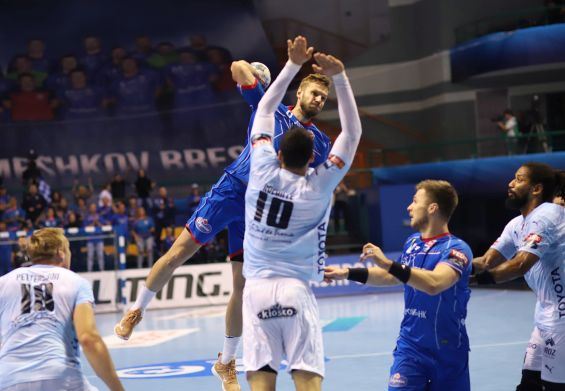 With Brest taking a 13:12 lead at the break, both attacks slowed down, as the efficiency plummeted. As the two goalkeepers made save after save, Brest started to lose steam and a Valentin Porte-led French side finally managed to tie the game, 21:21, with ten minutes to go.

It was a superb ending from Montpellier, with the French side coming out on top, 27:25, due to a calmer approach in the dying minutes of the game, as Brest could not cope physically and lost their second game in a row 27:25 this season.
"We knew we would have a hard game. I think we were fighting for each other. We did incredible work in defence, especially one against one. Great performance by all players," commented Montpellier line player Fredric Pettersson.
HC Meshkov Brest coach, Raul Alonso, was disappointed with the result, but he still felt that it was an improvement on their effort against Porto.
"We weren't able to win one-on-one situations in big space. I don't have the answer for this problem now. But I want to say my team was fighting till the end – not like in Porto. It's a step in the right direction," he said.
Author: Adrian Costeiu / jw