Stunning second half lifts Vardar past Porto, Kielce add to Motor's misery
Reigning champions Vardar won their first home Champions League match since regaining the title
Porto made a great start but 7 goals apiece for Dainis Kristopans and Ivan Cupic swung the game
After their dramatic draw in Kiel last time out, Kielce romped home to victory over Motor
14 players, including goalkeeper Andreas Wolff scored for Kielce, with line player Artem Karalek leading the line with six goals
HC Vardar (MKD) vs FC Porto Sofarma (POR) 32:27 (14:16)
Fresh from an impressive win in the first round against Montpellier, Vardar were duly stopped in their tracks early on by Porto in the champions' maiden game of the season in Skopje, before turning things around.
A 6:3 Porto lead shocked the title holders, who managed to mount a comeback through five goals scored by left back Dainis Kristopans. Yet Vardar, who had tied the game twice, were still behind at the break, 16:14, as the best player from the previous round - left wing Diogo Branquinho - led the Portuguese side with five goals.
A 3:0 run to start the second half tipped the scales in Vardar's favour, but Porto took back the lead after their own 2:0 run. However, the Portuguese side ran out of breath in the second half, with a 5:0 run sealing the deal for Vardar, giving them a second consecutive win of the season.
Dainis Kristopans and Ivan Cupic were Vardar's top scorers, with seven goals apiece, lifting the title holders past their opponents.
"I'm disappointed with the result also but mainly with the way my team played second half," said Porto coach Magnus Andersson, "And a little with myself too. We had a few too many two minutes and that wasn't easy. But if anyone told me a year and a half ago that we would be playing in Vardar and fight like this!"
Vardar star Timur Dibirov recognised how critical the second half was, and had nothing but positives for his opponents, "In the second half we managed to find our game and things changed in our favour. If they continue like this, I'm positive Porto will win a lot of points in our group, because this team is progressing very fast."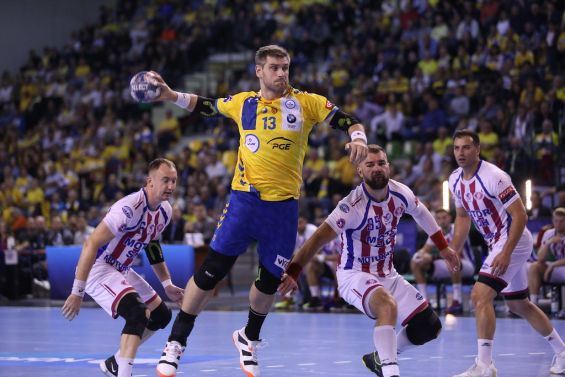 PGE Vive Kielce (POL) vs HC Motor Zaporozhye (UKR) 33:26 (22:11)
Riding the crest of a wave after tying the game against Kiel in the final second in the last round, Kielce came out all guns blazing against Motor, jumping to a 13:4 lead after 17 minutes.
There was nothing the Ukrainian defence could do to stop the Polish side from scoring, with Belarussian line player Artsem Karalek being unstoppable in putting four past the opposing goalkeeper in the first half.
Kielce were flawless, scoring from their first 16 shots, as they strolled to a 22:11 lead at the break, that saw Motor crashing to another heavy defeat after their 40:28 loss against Veszprem in the first round.
Thirteen outfield players, including goalkeeper Andreas Wolff, scored for Kielce in a rout that could have been worse, yet Motor managed to salvage something from a poor game, by reducing the gap to only seven goals by full-time, 33:26.
Author: Adrian Costeui /at