VELUX EHF Champions League backs International Day of the Girl Child
The VELUX EHF Champions League's links with charity partner Plan International has been strengthened further ahead of this week's International Day of the Girl Child.

International Day of the Girl Child, which is celebrated globally on 11 October, highlights and addresses the needs and challenges facing girls under the age of 18, while promoting girls' empowerment and the fulfilment of their human rights.

As part of the EHF Champions League's continued support of the initiative, handball legend Dominik Klein and EHF Marketing Managing Director David Szlezak visited Brazil while this Sunday's Match of the Week will see a number of special activations take place.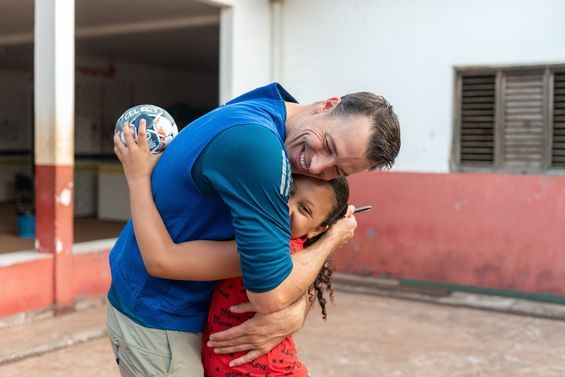 Lays gives Dominik Klein a hug during their meeting in Brazil

With this, both clubs and the spectators together with the EHF Marketing and Plan International can show the importance of the International Day of the Girl Child.

David Szlezak, managing director of EHF Marketing GmbH, said: "We are extremely proud of the positive and proactive work that Plan International is providing to girls like Lays and her family.

"Our experience in Brazil further highlighted the fantastic work of the organisation but also showed why the continued support of such projects is vital to communities.

"We hope that our partnership with Plan International can continue to help give them a platform to carry out the life-changing work around the world to those who need it."
For further information on International Day of the Girl Child: https://www.un.org/en/events/girlchild/
Visit https://www.plan-international.de for more information on Plan International.
Author: EHF/ab