Ekdahl du Rietz makes surprise return to Rhein-Neckar Löwen
After shocking the handball world last year by announcing his retirement at the age of 27, Kim Ekdahl du Rietz will return to action for his former club.
The Swedish left back's return for the rest of this season was confirmed by Rhein-Neckar Löwen at a press conference on Friday morning.
After becoming German champion for the second time, Ekdahl du Rietz spent last summer in his Swedish hometown of Lund, before visiting a number of countries around the world.
The 28-year-old moved to Bordeaux a few weeks ago, but his stay was short-lived as he answered the call from his beloved former club.
"I cannot believe I am back in this arena, it is like a dream. I did not think I would be playing handball at this level again. Now I am truly excited about what lies ahead," said Ekdahl du Rietz before joining his teammates for training.
Additionally, the Swede announced he will donate the money he earns in the upcoming three months to social projects.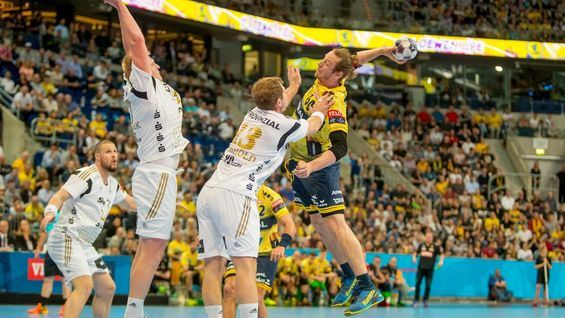 Ekdahl du Rietz will have his first match in the German Cup next week as he is not eligible to play in the VELUX EHF Champions League until the Last 16 stage.
"Kim is back in the Löwen family and he will help us in our quest for three potential trophies," said club manager Jennifer Kettemann, adding: "The whole team is looking forward to play together with him again. It was the players' wish that Kim would help us again."
At the age of 16, Ekdahl du Rietz made his debut in the Swedish league, then went to HBC Nantes in France, before joining Rhein-Neckar Löwen in 2012.
In his five years at the club, he won the EHF Cup in 2013 and two German league title in 2016 and 2017, scoring 324 times in 98 Bundesliga matches and 194 goals in Europe.
This signing adds to the already strong presence of Swedish players in the team, featuring Jerry Tollbring, Kristian Bliznac and goalkeeper duo Mikael Appelgren and Andreas Palicka.
Author: Björn Pazen / cor